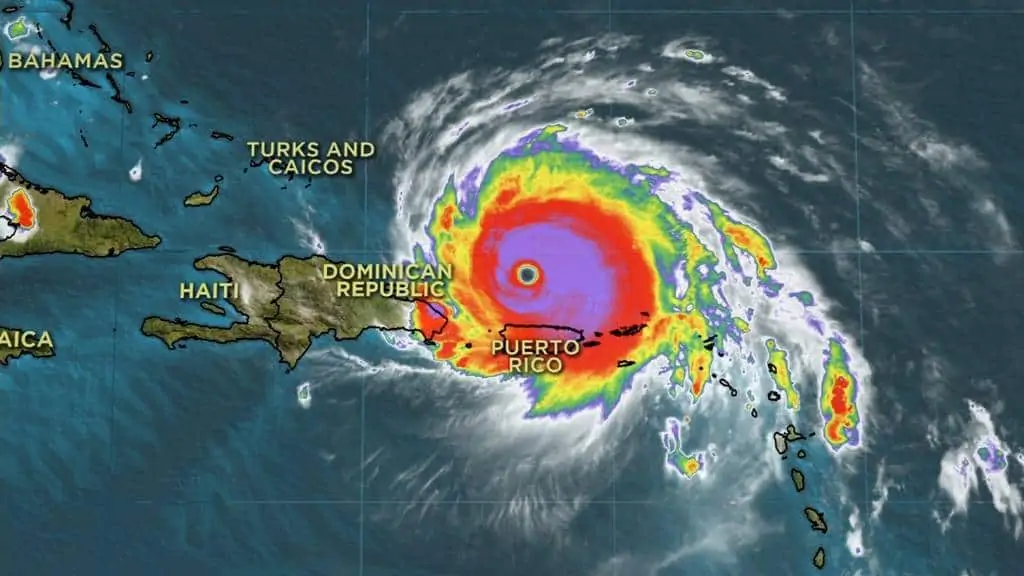 If you've been dreaming of a beach holiday in the Caribbean all winter, you're certainly aware that visiting during the 'off-season' is recommended for a variety of reasons, including fewer crowds, cheaper flights, shorter lines, and better resort costs. The Dominican Republic's off-season falls during the summer when many families' children are out of school and work schedules are relaxed. It's hurricane season, too.
Punta Cana has a tropical climate, so you can expect beautiful weather year-round, with temps average in the 80s F.
Punta Cana Hurricane Season
The hurricane season in the Atlantic officially begins on June 1 and finishes on November 30th. Because hurricane season runs from August to October, the odds of being caught in a storm at either end of the season are lessened but still a possibility. Many travel advice publications advise people to avoid the Dutch islands of Aruba, Bonaire, and Curacao (called the "ABC" islands) since they are in storm alley, but this is overly simplistic because it will not prevent your holiday from being wrecked. After all, if you can't go to the ostensibly safe island because all aircraft are grounded, you've already lost those vacation days.
In the event of a hurricane, the Punta Cana area is well-protected, with relatively modest damage. Natural protection is provided by the nearby east-lying Puerto Rico and the Mona Channel, whose differing temperatures/conditions force tropical storm/hurricane formations to turn northwards over Samana or southwards into the Caribbean Sea in most cases; a significant advantage in the event of hurricane damage to the Punta Cana area, which manifests itself in river flooding and mountain mudslides.
Book your Excursions & Tours in advance. We provide roundtrip transportation from all hotels in Punta Cana.
No Payment Required - Schedule your activities today using our pay later option!
Here are 6 tips to keep a hurricane from ruining your Punta Cana vacation.
1. Check the small print for cancellation options
In the event of a hurricane in Punta Cana, you must be aware of your vacation package's cancellation policy and how they handle cancellations. If you change your dates or times, you may be able to avoid cancellation fees in some cases. Furthermore, some vacations are all-inclusive and include insurance coverage, so you will not lose money due to cancellations caused by a hurricane.
In hurricane-prone areas, some hotels, resorts, and vacation rentals provide 'storm assurances,' but they've all but vanished in recent years.
Many well-known resorts have their own storm safety plans, however, they usually consist of giving guests a credit toward a future stay rather than providing recompense. Furthermore, their regulations are restricted to situations where flights are canceled or evacuations are required.
Many airlines waive change fees and allow you to rebook your journey when a hurricane is approaching and planes are grounded (within a certain amount of time).
2. Determine how to abandon your trip
While pre-trip cancellation is one thing, when you've already begun your journey and a hurricane strikes, it's quite another. It's critical to double-check the facts of your lodging and flights so you know exactly what you can and cannot do. While you may be safe where you are during the hurricane, the chances are that you will not have the vacation you desire.
Check your rental contract if you're renting a beach home to see if the owner will reimburse you if authorities order an evacuation while you're there (most won't). Inquire about storm guarantees if you're staying at a hotel or resort.
While airlines have recently been more accommodating in allowing passengers to change flights when a hurricane is approaching, your trip may be delayed until additional planes can be rerouted to deal with the backlog of evacuees. Furthermore, the airline will not pay you for additional expenses like as additional hotel nights near the airport.
Read Myths About Punta Cana Safety
3. Buy travel insurance
Hurricane travel insurance can pay travelers for their pre-paid trip expenditures if their primary residence or travel destination is deemed uninhabitable as a result of the storm. You'll need to add 'cancel for any reason coverage if you want to get your money back even if the resort isn't fully destroyed.
You won't be able to collect money from your travel insurance claim if your resort gives you a credit for a future stay. Consider this: you essentially obtained your funds through credit, and obtaining them again would be considered double-dipping.
The trick is to make sure that the travel insurance plan you buy clearly includes storms in its coverage; otherwise, even if your plan states it covers trip cancellations, you won't be covered.
4. Do a little emergency planning
Tornadoes, earthquakes, blizzards, and volcanic eruptions are examples of natural disasters. They can't be helped or controlled. The greatest thing you can do is avoid them and have a plan in place to cope with the consequences if you do get caught in one.
If you have to deal with a particularly unpleasant situation, a little emergency planning can go a long way. If you can't get out of the way of the hurricane or cancel your trip ahead of time, you may have to be prepared to ride it out wherever you are. That could mean being cooped up in a hotel with boarded-up windows, no air conditioning, and few amenities.
Read also; Punta Cana Travel tips
5. Pay attention to the weather
It is critical to stay one step ahead of a hurricane in order to get out of its path in time. Storm surges, heavy rainfall, inland flooding, high winds, and rip currents are all examples of hurricane hazards.
The National Weather Service is in charge of protecting lives and property through timely watches and warnings, but if you're traveling during hurricane season, you should keep an eye on the news. After all, when Hurricane Sandy, a classic late-season hurricane, swept through the southwestern Caribbean Sea before making landfall in New Jersey, many people were stranded for days as flights were canceled across the country.
Read our Guide to Punta Cana Weather
6. Have a backup vacation plan
If your vacation time is limited and you want to ensure that you have one this year, consider the following your best backup plan: Cover your Caribbean trip with comprehensive travel insurance (including 'cancel for any reason coverage) and plan a backup vacation.
If a hurricane appears to be on the horizon as your vacation approaches, you can cancel your trip, book an alternate trip, and still have a good vacation.
Book the top Punta Cana Excursions
Learn about; Things to do in Punta Cana