Punta Cana is renowned for its beautiful beaches, with over 40 miles of coastline to explore. These beaches are considered some of the best in the Caribbean and the Dominican Republic. Whether you're looking for a relaxing day at the beach, an adventure or a romantic getaway, Punta Cana has something for everyone.
In this guide, we will highlight 11 must-visit Punta Cana beaches, including Playa Bavaro, Playa Juanillo, Playa Macao, Playa de Arena Gorda, and Playa Cabeza de Toro, among others. With their crystal clear water, white sand and picturesque landscapes, these beaches are sure to leave a lasting impression.
Playa Bavaro: The Most Popular Beach in Punta Cana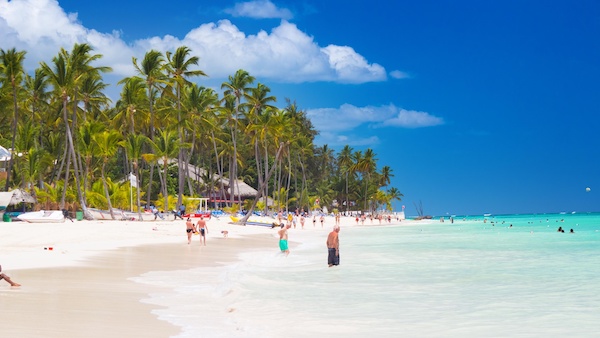 We're starting the list with one of the most popular and often-visited beaches in Punta Cana and the whole country for all the right reasons!
Like all the beaches in Punta Cana, this one is a public beach so you can get in free from various access points. The beach is everything you'd expect from a tropical paradise!
This includes miles of white sand and palm trees overlooking the beautiful turquoise water!
At Playa Bavaro, there are a lot of all-inclusive resorts, apartments right on the beach, restaurants, beach clubs, and beach bars.
You can do more than swim and relax on the beach with a cocktail. You can water skiing, parasailing, banana boating, and even fishing!
That said, Bavaro Beach can get a little crowded on weekends, so you must keep that in mind if you're looking for a more serene environment.
Playa Juanillo: A Great Beach for Couples and Families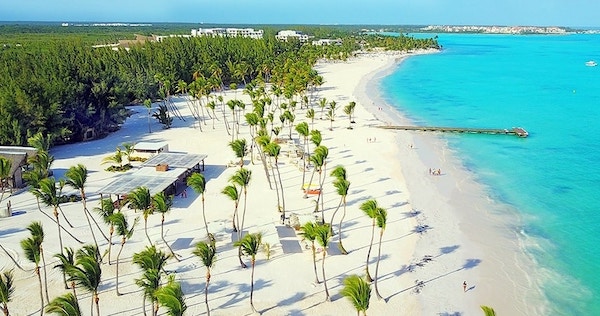 Playa Juanillo is a beautiful beach area that's great for couples and families. It's also a great place to go on adventures and take photos in a tropical setting.
Playa Juanillo is one of the most popular places to visit in the Punta Cana area. It has some of the most beautiful sand and ocean views.
The beach's gentle waves are beautiful, making it a great place to hang out and relax. Still, the water isn't very deep, so it's not the best place to swim. But because the beach is so big, it rarely gets too crowded.
Hyatt Zilara Cap Cana, Sanctuary Cap Cana, Juanillo Beach Club, and dozens of other resorts and restaurants line the shore.
Don't miss out on the opportunity to explore Punta Cana's beautiful beaches! Book one of our excursions and tours today and reserve now, pay later.
Playa Macao: A Great Place to Surf and Swim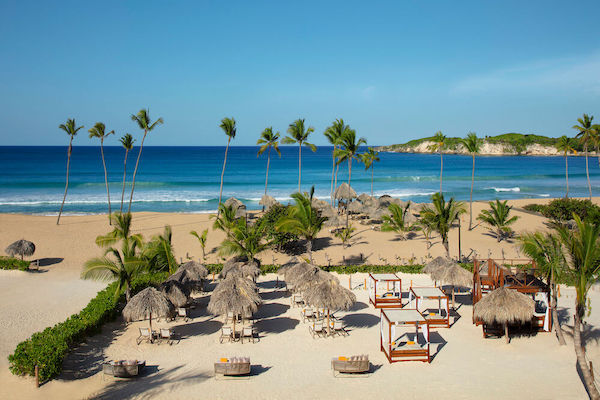 Macao Beach, in the Dominican Republic, is a popular destination due to its crystal clear water and snow-white sand.
The beach has beautiful scenery and is a great place to swim. It is also one of the best beaches in the Caribbean for surfing (the beach is windy and has a lot of waves) and driving 4-wheel buggies on the beach.
Since it's a public beach, there aren't many resorts and hotels near Playa Macao, especially compared to other famous beaches.
But this makes it perfect if you want to enjoy a real Dominican beach while still having a few places to stay close by.
The Hostel Johnnier Macao and Dreams Macao Beach Resort are among the most popular accommodations near the beach. You can also find a few beach clubs and restaurants, such as Doña Macao Restaurant and D'Bale restaurant.
Playa de Arena Gorda: A Clean and Isolated Beach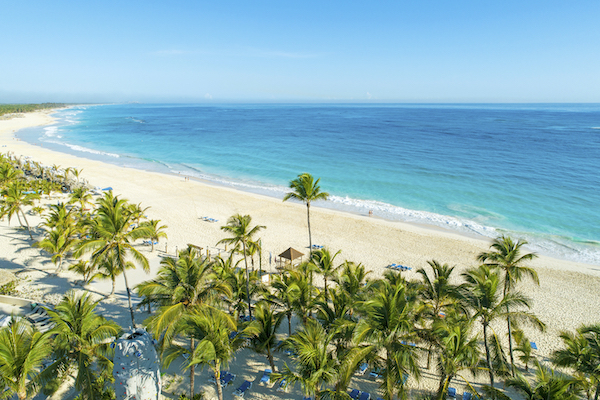 This one directly translates to "fat sands beach," which refers to its broad sweep of clean white sand.
Since Playa de Arena Gorda is pretty isolated and well-kept, it is one of the cleanest beaches you can find in the Dominican Republic!
The beach has white sand and beautiful, clear water with waves that are fun to play in.
Even so, public access to the beach is limited, so the best way to enjoy it is to stay at one of the nearby resorts. You can also get to it from other beaches, like Playa del Cortecito.
Hard Rock Punta Cana, RIU Palace Punta Cana, Occidental Caribe Hotel, and Kukua Restaurant Beach Club are some of the most popular resorts and beach clubs there.
Playa Cabeza de Toro: A Beautiful and Unspoiled Beach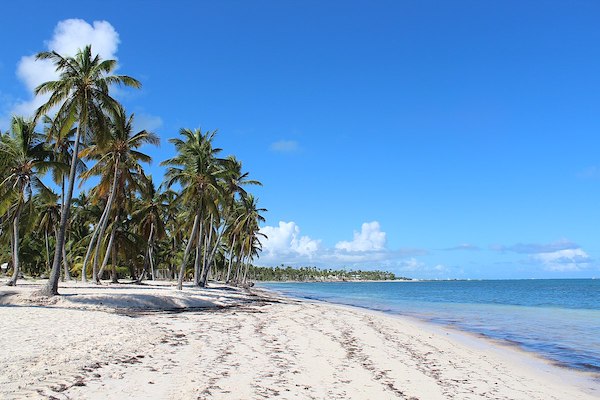 The Cabeza de Toro beach is located at the easternmost point of the country, which is why the locals call it "the birthplace of the sun."
One of the unique things about this beach is its relatively untouched nature. It has clean white sand and bright blue water, along with abundant coconut trees and algae extending to the shore.
This makes it perfect for people who like a wild beach where they can take beautiful pictures of nature and tropical paradise themes.
The region has many resorts and restaurants, such as Catalonia Royal Punta Cana, Radisson Blu Punta Cana, and Serenade Punta Cana. In addition, there are restaurants like Oralé, Pearl Beach Club, and Caracola.
The nearby village is also tourist-friendly and has plenty of artisan workshops where you can buy souvenirs.
Take your Punta Cana beach experience to the next level by booking one of our exciting excursions and tours. Reserve now and pay later for your convenience.
Playa Corales: A Beach with Stunning Coral Reefs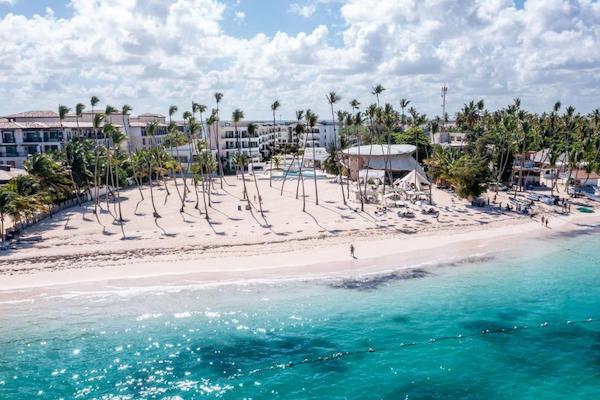 Playa Corales is a smaller beach on the larger Playa Bavaro beach, which is one of the longest in the Punta Cana area. Playa Corales is one of the smaller beaches on Playa Bavaro beach.
One of the things that make Playa Corales special is its simplicity. Reaching the beach is relatively easy, and the prices there are pretty affordable. This makes it a very active spot where you can meet people from all over the world.
Despite the simplicity, the beach is still well-preserved and has plenty of unique spots to take amazing pictures.
The beach is also close to various hotels and resorts for all budgets and numerous restaurants and chill-out bars.
Bibijagua Beach: A Hidden Gem in Punta Cana with a Local Charm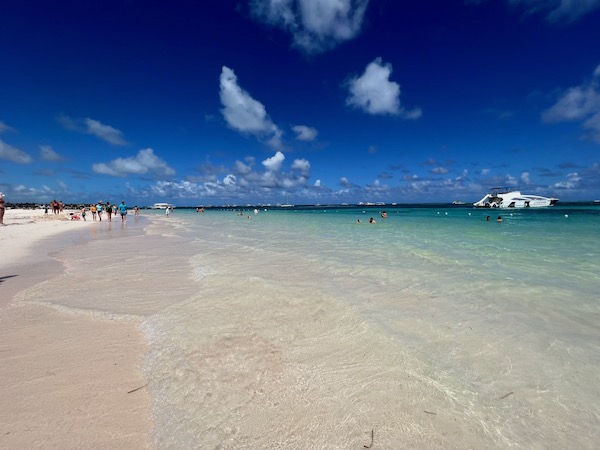 Another unique beach considered a part of the grand Bavaro Beach is the Playa Bibijagua.
This one has a fun, international atmosphere that makes this beach one of the most active tourist spots in Punta Cana!
Playa Bibijagua is known for its beautiful sandy beaches, but it is also known for the shopping plaza close by.
This one has over a hundred stalls selling inexpensive jewelry. Here you'll find souvenirs, beachwear, snorkels, masks, local liquors, coffee, shells, cigars, and more!
Playa Blanca: A Beautiful Beach with a Variety of Water Sports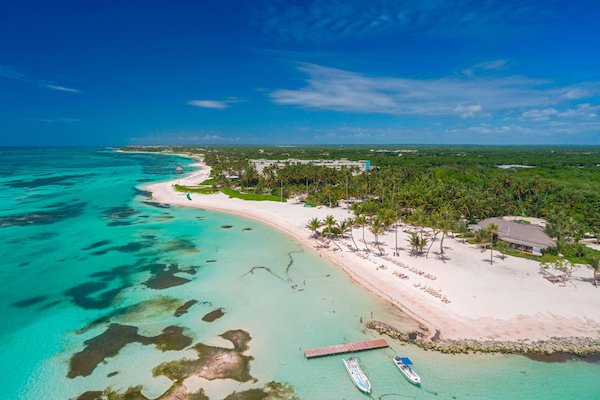 As the name of this beach suggests, Playa Blanca has some of the softest and whitest sand you will see in all of Punta Cana and the Dominican Republic.
It's also one of the beaches closest to Punta Cana Airport and only 5–6 minutes from the city center, so it's a good choice if you want to see a lot of the city in a short amount of time.
Thanks to its reflective properties, the beach's sand remains cool to touch all day, so it's a great choice if you enjoy walking along the beach. However, the sand is so white that we recommend wearing sunglasses before gazing at the beach!
Additionally, you can enjoy snorkeling and swimming in the beach's calm water or enjoy the beautiful scenery of the coconut palm groves.
The beach is also a 3-mile drive from the Los Ojos Indigenas Nature Reserve, which has some of the most beautiful lagoons in the region.
Enhance your Punta Cana beach vacation by booking one of our guided excursions and tours. Reserve now and pay later for the ultimate stress-free experience.
Playa Uvero Alto: A Beach with a Great Nightlife Scene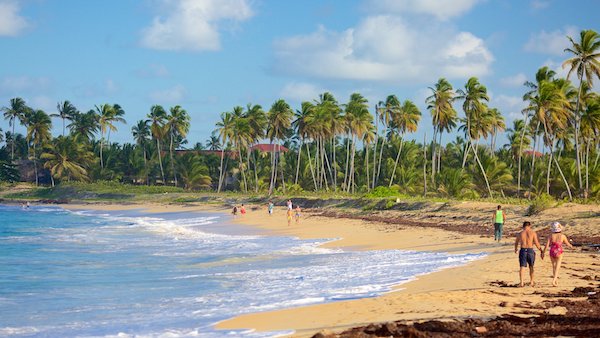 Although the Uvero Alto Beach is further than most other beaches in Punta Cana, it's well worth the visit!
Unlike most of the other beaches on this list, this one is famous for its golden sand and clear water. This beach is also in good shape because it doesn't get as many visitors as other beaches. This makes it a great place for anyone who wants to enjoy a calm atmosphere and a beach that isn't too crowded.
Even though the beach is far away, there are still a few luxury all-inclusive resorts, hotels, and restaurants nearby.
You'll see Finest Punta Cana, Excellence Punta Cana, Breathless Punta Cana, Live Aqua Beach Resort, and Castaways beach club.
smeralda Beach: A Private Oasis in Punta Cana with Turquoise Waters and White Sands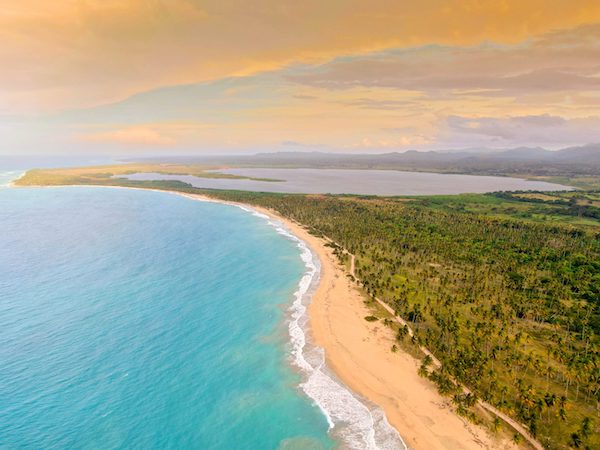 If you don't mind a longer drive to enjoy the most beautiful scenery in all of Punta Cana, you should consider Playa Esmeralda.
The water on this beach is so crystal clear and mesmerizing that you can spend all day without even knowing!
Playa Esmeralda is ideal for those who appreciate serenity, as it's relatively empty and less active than any beaches on the list.
The area doesn't have many nearby resorts, so it's perfect for those who prefer a wild beach with little human intervention!
Playa del Cortecito: A Relaxed and Laid-Back Beach with a Variety of Dining and Entertainment Options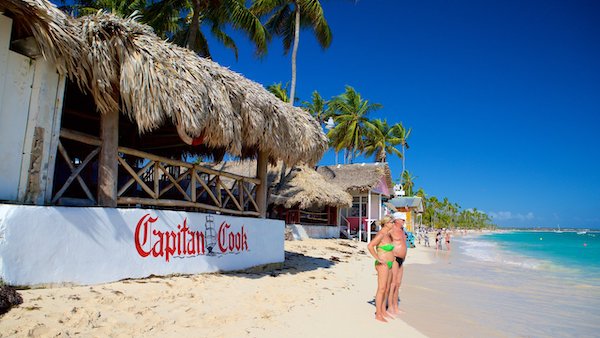 Lastly, we have the Playa del Cortecito. This one was awarded the Blue Flag in 2013 for its clean facilities and well-preserved natural environment.
The beach is narrower than the others on the list, but it still has many local chill-out bars and restaurants.
The area also has low-cost lodging options, such as the Green Coast Beach and nearby resorts like the Palladium Punta Cana.
Discover the beauty of Punta Cana's beaches like never before with our exclusive excursions and tours. Don't wait, reserve now and pay later to secure your spot.
Wrap Up

In conclusion, Punta Cana is a paradise for beach lovers, with over 40 miles of stunning coastline to explore. The 11 beaches highlighted in this guide are just a glimpse of the many beautiful beaches that Punta Cana has to offer. From the popular and often-visited Playa Bavaro to the isolated and well-kept Playa de Arena Gorda, there is a beach for every type of traveler.
Whether you're looking for a relaxing day at the beach, an adventure or a romantic getaway, Punta Cana has something for everyone. So pack your sunscreen, book your trip and get ready to explore the best Punta Cana beaches.

There you have it! A brief guide that shows you all the different Punta Cana beaches. As you can see, there are plenty of beaches in the Punta Cana region, and each has characteristics that make it unique.