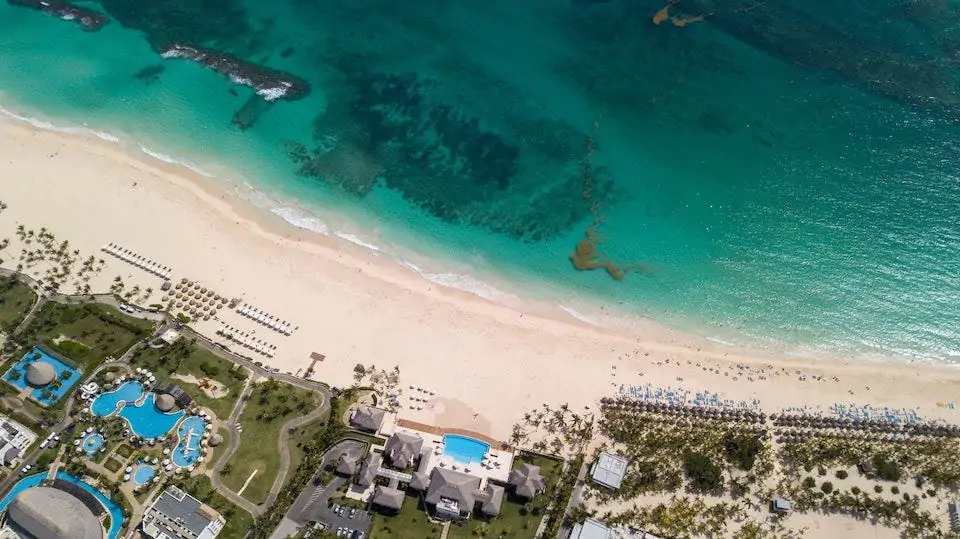 There Is An Airport Visitor Fee
Each visitor going through the Punta Cana International Airport is required to pay $10 for a visitor fee prior to going through immigration. The fee must be paid cash only, so make sure you stop by an ATM stateside before you board your plane.
Pre-book Your Airport Transportation
Similar to many Mexican travel destinations, the airport experience can be stressful if you're not prepared. After you arrive at the Punta Cana International Airport and grab your bags, you are immediately bombarded by men trying to offer you transportation services and sign you up for timeshare tours.
This is why it's important to book your airport transportation ahead of time, either through your hotel or through a reputable company so that you don't have to deal with the stress of all the hawkers. Another option is taxies, which are safe, but you have to practically swim through shark-infested waters to find one. Booking your driver ahead of time is much easier and much less stressful.
If you already have your transportation set up – go straight out of the airport, don't listen to anyone who asks you where you're going, and find the driver holding up a card with your name on it. Everyone else will try to "help" you, but they are ultimately trying to get you to go with them instead. Stick your course, and you'll escape the "sharks" with no problem.
Your US Dollars Are Acceptable
Most vendors and excursions in Punta Cana accept US dollars as payment, even for tips. Don't waste time and money on conversion rates to exchange your dollars for pesos.

Latest USD to DOP (Dominican Peso) exchange rates.
Ignore The Clouds On Your Weather App
Because Punta Cana is a tropical location, rain and clouds do occasionally pop up for short periods. Don't be scared by the cloudy weather report on your weather app. If there is even a slight chance of clouds or rain, the report will forecast clouds all day. But this is never the case in reality unless there's a major storm rolling through.

Keep Your Top On
It's important to respect the customs of any location you visit, including the customs surrounding beach attire. The Dominican Republic has strong Catholic roots, and beach nudity is not adequate.
Book your Excursions & Tours in advance. We provide roundtrip transportation from all hotels in Punta Cana.
No Payment Required - Schedule your activities today using our pay later option!
The Town Is Far Away
In The Bachelorette 2014 season finale, the show whisked the contestants from Punta Cana to the capital city, Santo Domingo, like it was just a short distance away. Well, unless you plan on taking a helicopter over, think again. It's a 2.5-hour drive from Punta Cana to Santo Domingo.
It's A Tourist Destination
Remember that Punta Cana is largely a tourist destination, developed specifically for tourism. While there are beautiful jungles and other interesting natural locations nearby, most of them are far from the hotel areas. Punta Cana is similar to Cancun, where it's just hotel after hotel, with very few secluded beaches. Depending on where you stay instead of peace quiet, you may find a lot of beach vendors selling everything from bracelets to braids. They are relatively respectful, however, and a simple "no, thank you" will move them along.
Tipping Is A Must
As in many developing countries, wages are low in Punta Cana and the Dominican Republic in general, so tips go a long way. Consider tipping 10-20% unless the service is bad, even at all-inclusive resorts. Tipping is a great way to show your appreciation and ensure that you are well taken care of during your visit.
You Can Drink The Water
The majority of Punta Cana hotels and resorts only serve filtered water and ice, which is perfectly safe to drink.
Book your Excursions & Tours in advance. We provide roundtrip transportation from all hotels in Punta Cana.
No Payment Required - Schedule your activities today using our pay later option!
Stock Up On Souvenirs
Consider foregoing the typical palm tree magnets and seashell necklaces and bring home one of these Dominican specialties: coffee, rum, or mamajuana (an alcoholic mixture of rum, wine, and honey-soaked in tree bark). You can pack up to 5 liters of alcohol in your check-in luggage, so stock up!
When you're visiting Punta Cana, things to know include how to have fun! Book your tickets to Scape Park and experience the natural wonders of this paradise.