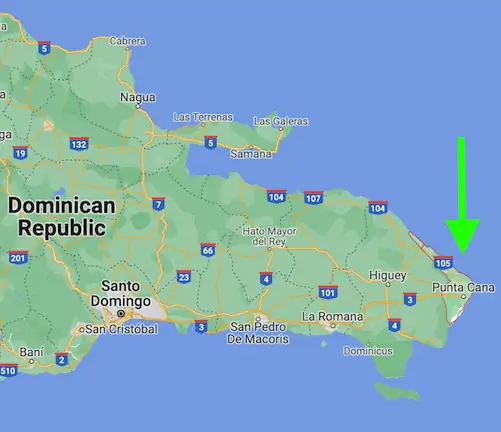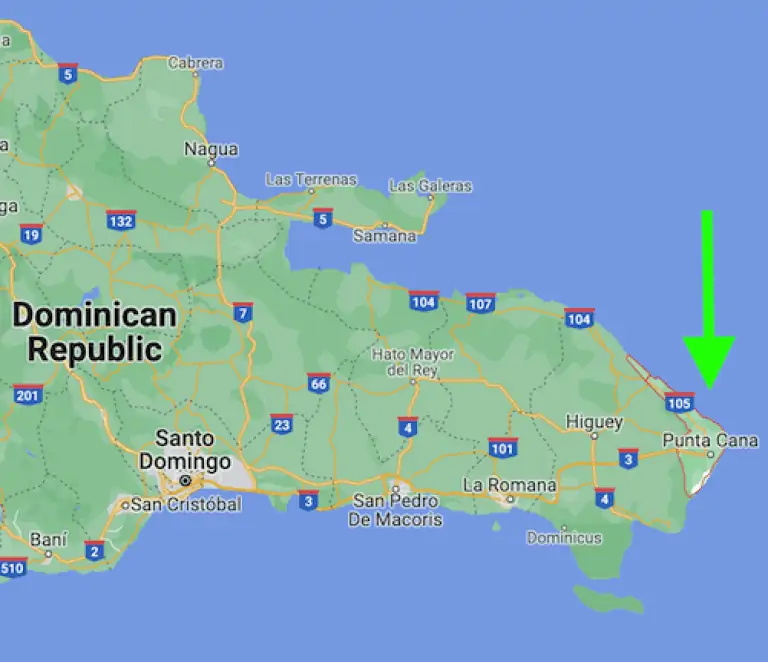 Where is Punta Cana? Have you ever been to Punta Cana, or are you thinking about going? Maybe you're looking for a map of Punta Cana or travel tips on where to stay while in the area.
The Dominican Republic boasts miles of beautiful beaches and some great snorkeling, which attracts tourists from all over the world. However, many first-time visitors are unfamiliar with the area and struggle to find information on the region's geography. This map of Punta Cana will help you better understand where this popular vacation destination is located, and how far it is from the popular tourist destinations of Santiago de los Caballeros, La Romana, Santo Domingo, and Puerto Plata.
Where is Punta Cana?

Thanks for asking! Punta Cana is located in the east-central Dominican Republic, on a peninsula about 50 miles (80 kilometers) from Santo Domingo. The Punta part of its name comes from its location at the easternmost point on that country's mainland; Cana derives from an indigenous word that means virgin forest. Punta Cana makes up one part of La Altagracia Province, which has an area of 1,425 square miles (3,691 square kilometers) and over 250 miles (400 kilometers) of coastline.
What are some good hotels near Punta Cana?

When deciding where to go for your next vacation, picking a hotel with an awesome location can make all the difference. If you're thinking about heading down to Punta Cana (which, honestly, we think everyone should), then check out these hotels in popular locations near Punta Cana. You'll be able to enjoy easy access and plenty of great food and activities nearby!
These are some of our favorites:
Book your Excursions & Tours in advance. We provide roundtrip transportation from all hotels in Punta Cana.
No Payment Required - Schedule your activities today using our pay later option!
What airport do I fly into when I'm headed to Punta Cana?

There are many airports in the Dominican Republic that offer flights from most locations in North America, Europe, Asia, and South America. The main airport in Punta Cana is the Punta Cana International Airport (PUJ), located just minutes from downtown Punta Cana. You can also fly into Puerto Plata Airport (POP) or Santo Domingo's Las Americans International Airport (SDQ) or La Romana International Airport (LRM – closer to Puna Cana than SDQ). More than 10 airlines fly into PUJ so you have lots of options!
What island should I visit first on my trip to Punta Cana?

We highly recommend you to visit Saona Saona Island is a tropical island located off the southeast coast of the Dominican Republic's La Altagracia province. Pristine beaches, welcoming locals.
Check out our full-day tour to Saona Island
What's there to do in Punta Cana?

A common misconception about Punta Cana, especially for first-time visitors, is that there's nothing to do besides relax. This couldn't be further from the truth! From horseback riding and zip-lining to snorkeling and kayaking, Punta Cana has lots of activities that are fun even for novice adventurers. And if beaches aren't your thing, don't worry – there are also plenty of other things to do here too.
There are many tours such as Parasailing, Horseback riding, and theme parks such as Scape Park! Punta Cana has everything you need for an exciting adventure in one convenient location.
There are lots of great excursions in Punta Cana, and one that I would definitely recommend checking out is an ATV ride. You'll get a tour guide for safety, but still have tons of fun blasting through the jungle at high speeds in all-terrain vehicles. Check out a list of things to do in Punta Cana.