Are you finally thinking of making that trip to Punta Cana to rejuvenate and take a break from the day-to-day hustle? Do you want to go somewhere serene but fascinating with your loved ones and have fun-filled and memorable experiences? Punta Cana is an excellent choice for a family vacation, with a wide range of Punta Cana All inclusive family resorts to choose from.
There's something for everyone, whether you want to swim in the warm ocean or relax on the beach. If you're traveling to Punta Cana with your family, Punta Cana All Inclusive Family Resorts could be ideal!
Punta Cana in the Dominican Republic is a well-known tourist destination due to its beaches and activities. As of 2022, the district has over 90 fantastic and aesthetically pleasing resorts. The beaches are lovely, and there are plenty of things to do whether you want to relax or have fun! If you're looking for a tropical getaway that's both safe and fun for the whole family, look no further.
But, this listicle will walk you through the top 15 Punta Cana all-inclusive family resorts you should consider. Enjoy!
1. Nickelodeon Hotels & Resorts Punta Cana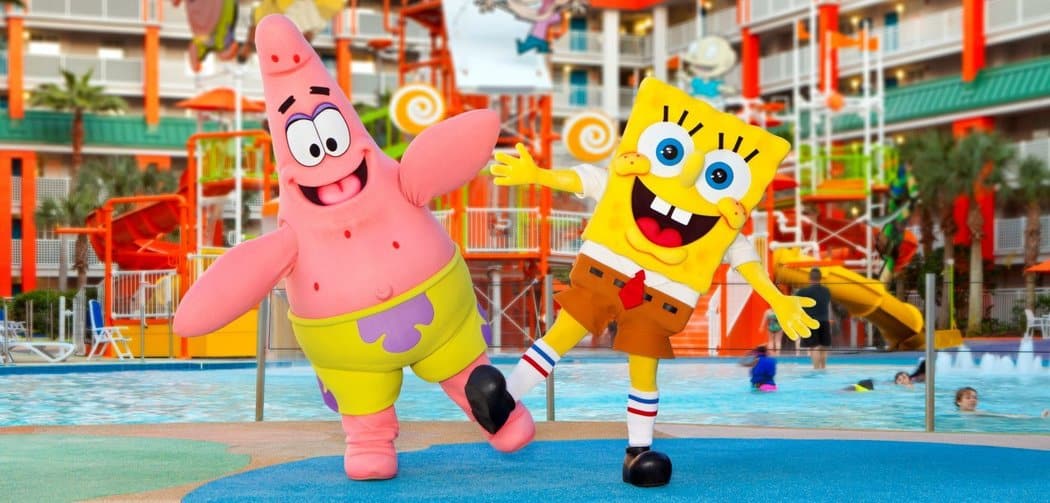 If you're looking for water park attractions, this is possibly the best all-inclusive family resort in Punta Cana for kids to visit.
Despite being the youngest generation to have known Nick, they will see some of their favorite Nickelodeon characters, such as SpongeBob.
The Nick resort in Punta Cana's theme isn't just for the little ones; parents will also enjoy the nostalgic delight. Adult-oriented activities, as well as standard amenities such as bars and spas, are available.
The resort's entertainment is cartoon-themed, but the suites are magnificent and peaceful.
See things to do in Punta Cana from Nickelodeon Resort Punta Cana
2. Royalton Splash Punta Cana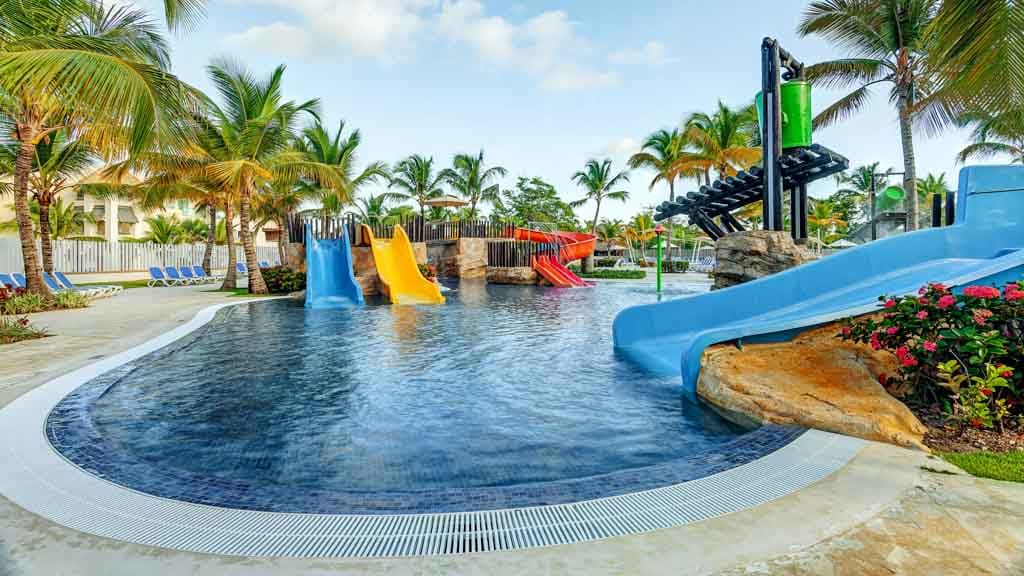 The Royalton Splash Punta Cana resort has one of the largest parks in the Caribbean. It has water slides that are sure to give your family the adrenaline rush and picture-worthy moments.
The resort is far from the beach but on the bright side, walking to and back with friends and family is quite a moment you'd relish. The laughs, views, and quick interactions with locals!
The Royalton Bavaro, but, is closer to the beach and, at the same time, has access to the Royalton splash large water park. Whichever you choose, your stay will be worthwhile.
Royalty Splash Punta Cana offers nightly entertainment, reservation-free dining, royal spa treatments, casino services, and fitness and sports facilities with instructor-led classes.
There are over 500 rooms, several restaurants and bars, and swimming pools to make your stay unforgettable.
See things to do from Royalton Splash Punta Cana
3. Majestic Colonial Punta Cana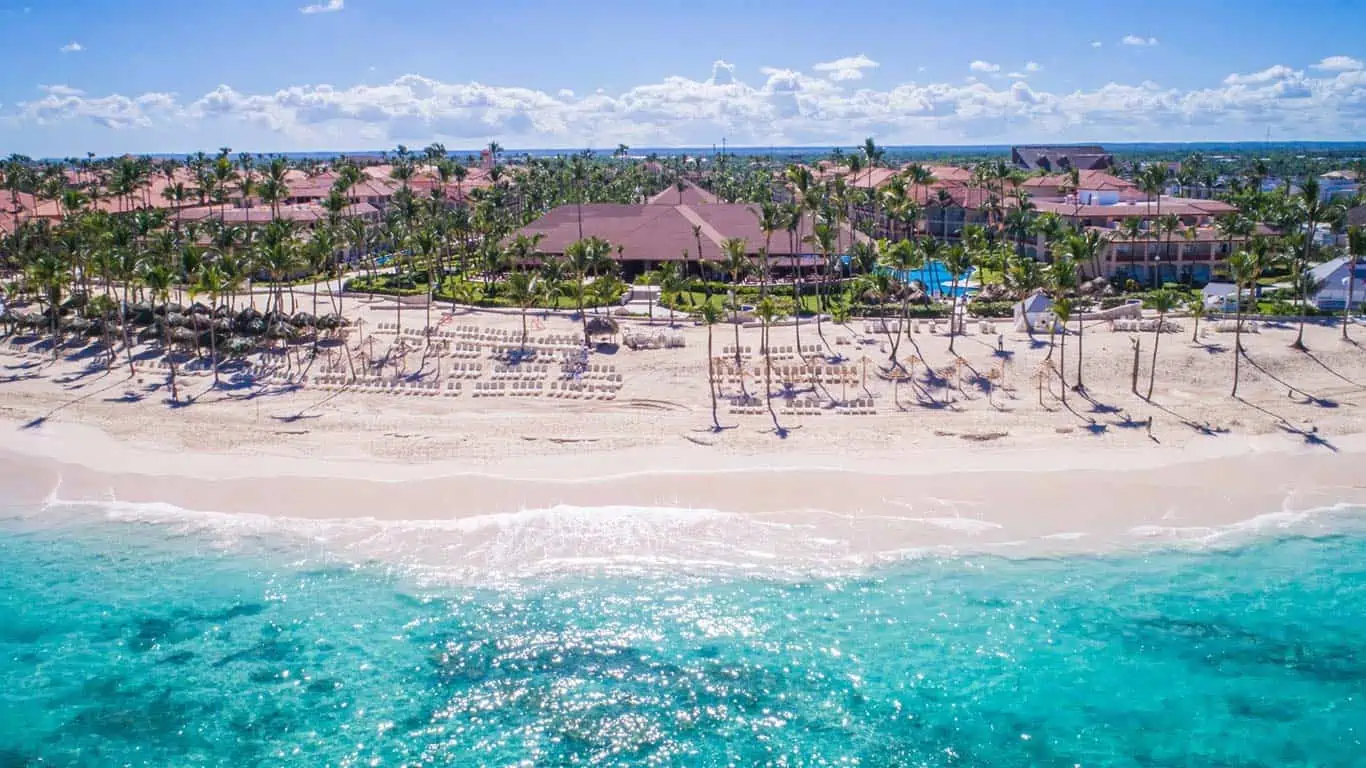 This resort is well-known for its incredible colonial architectural structures and the lush vegetation that surrounds it. The seamless blend of these two features makes the resort's picturesque environs a perfect place to sit back and relax.
Coupled with the majestic view, they have a pool a few feet away from the suites on the ground level. There is a fun zone specifically designed for your children, as well as an unforgettable pirate-themed water park suitable for ages 4-14.
Besides being beautiful and gigantic, in its 2017 renovations, every feature the resort has was well-considered to make it highly purposeful. The sole goal is for families to have a comfortable and enjoyable stay which is further seen in their top-notch customer service.
See things to do from Majestic Colonial Punta Cana
4. Hard Rock Hotel & Casino Punta Cana Family Resort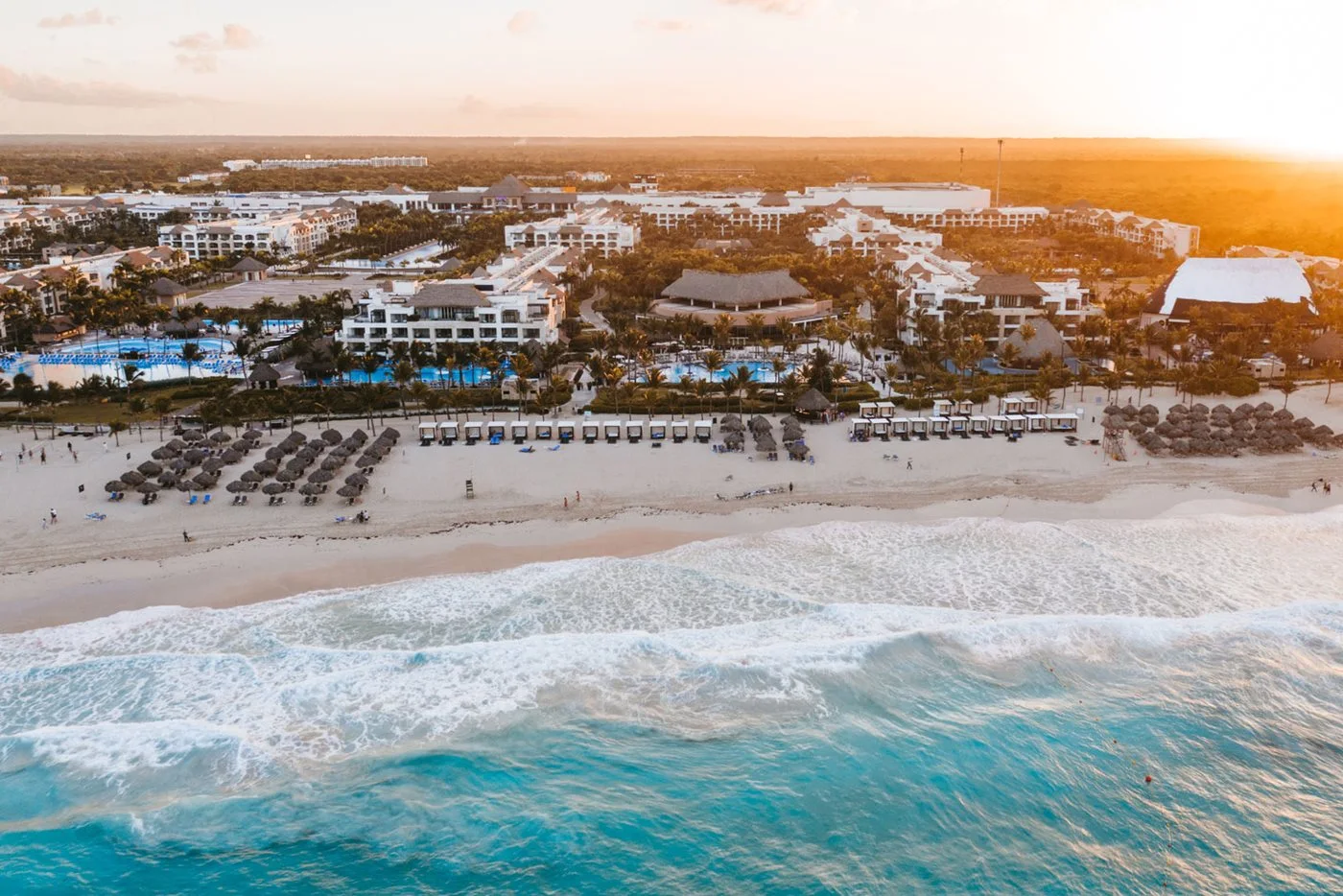 If you enjoy gambling like me, you're bound to have a good evening unwinding here.
They also have other planned activities for children and adults, making the resort an excellent recreational space for people of all ages. Their diverse and delightful cuisine is also worthy of mention. There's more than enough to match your taste!
Hard Rock Hotel and Casino has a spot on our family-friendly all-inclusive resorts in Punta Cana. It has the Caribbean's most prominent and refined casino, as well as gaming activities, incredible dining options, and exceptional accommodation services.
See things to do from Hard Rock Hotel & Casino Punta Cana Family Resort
5. Majestic Elegance Punta Cana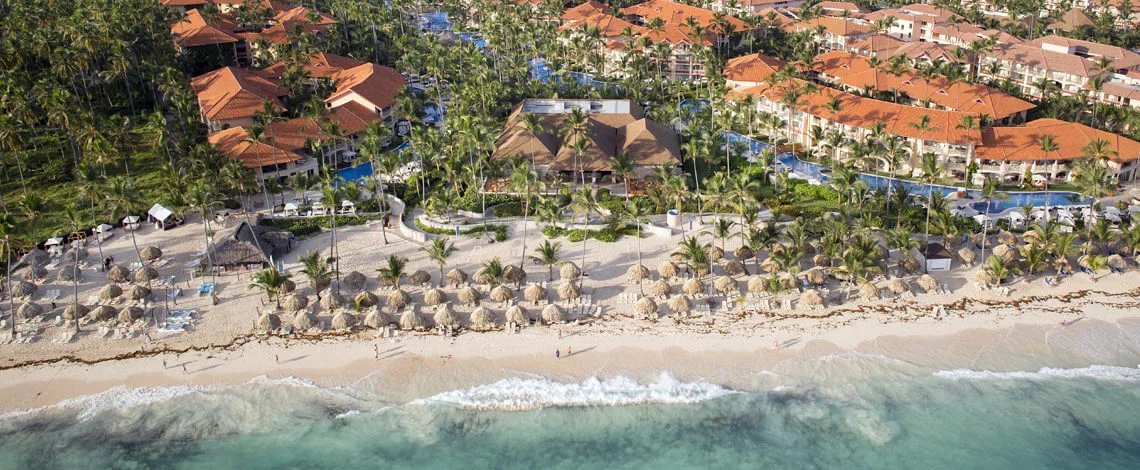 Majestic elegance resort situated in Playa Bavaro offers the perfect experience of Caribbean style and comfort. The resort provides one of the most outstanding services you can get around.
Its features include water sporting, golfing, and first-rate treatment. An added advantage is the beach surrounding the perimeter, giving it quite the serenity and scenery.
If you have a family member with food intolerance or a picky eater, you need not worry because the restaurant and bars have something for everybody, I guarantee!
See things to do from Majestic Elegance Punta Cana
6. Grand Bavaro Princess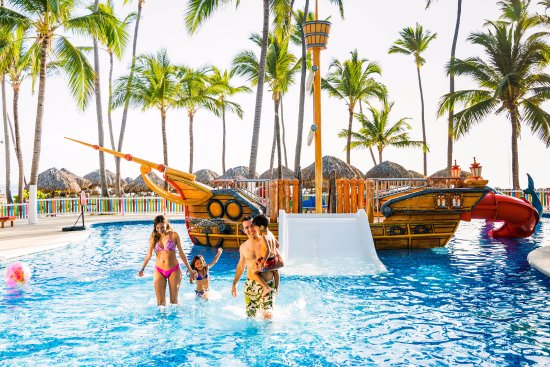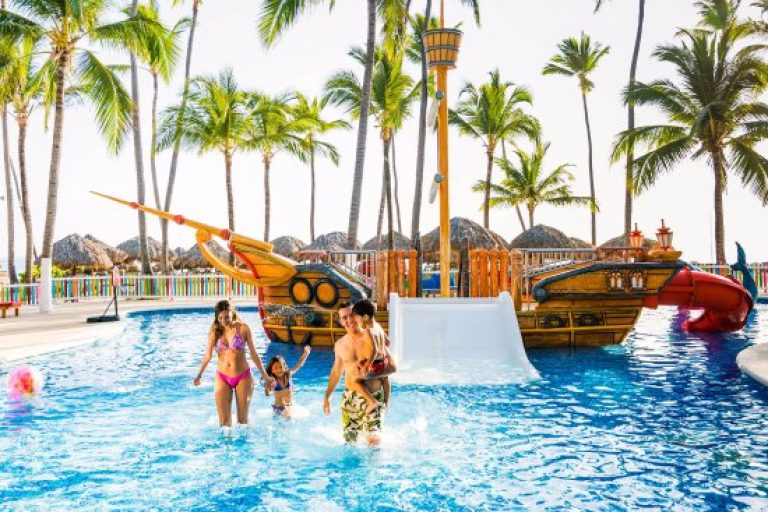 Aside from its beautiful scenery, the Grand Bavaro Princess is one of the places where you can grab everything you need while on vacation to have the best experience. Its elegance, beauty, five-star quality services, and host of activities are not applauded enough.
To your surprise, the Grand Bavaro Princess resort doesn't have its hotel apartments built with the usual structure. The rooms were uniquely constructed in beautiful bungalows that suit the homely style. This design can make you feel at home away from home, which could be tempting enough for introverts like myself to make you want to retire earlier for the night.
They also render childcare services at a price, for moments you want to spend some time with your partner.
See things to do from Grand Bavaro Princess
7. Grand Sirenis Punta Cana All-Inclusive Family Resort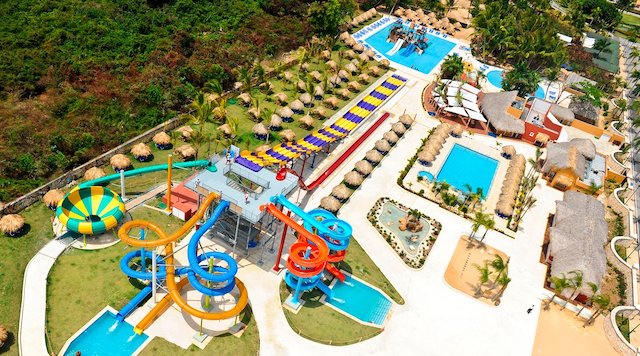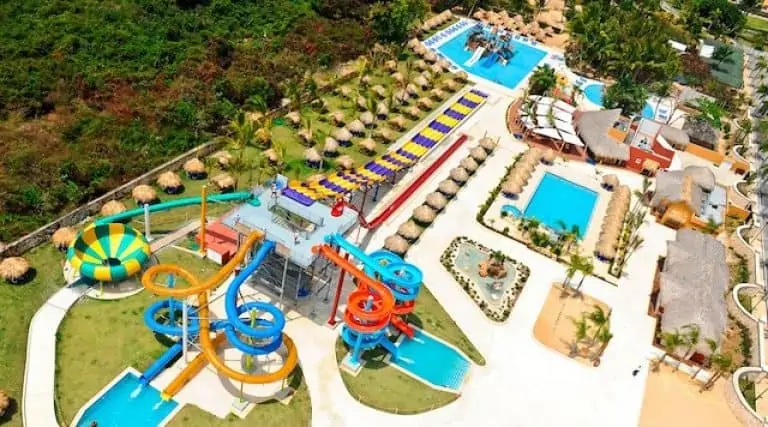 Vacation can't be more fun with a massive water park and seven spectacular, giant, thrilling water slides! Grand Sirenis understands that not everyone might jump at the idea of water slides and hence, made provision for other activities and games.
The rooms are brightly-lit, colorful, and beautiful to ensure that tourists enjoy indoor moments. The bars, restaurants, and food services are near perfect. Nobody gives a 10 out of 10, right?
If your family has a routine of evening walks, with over 130,000 square feet, there is a lot of ground to cover. With the appealing and ever-bustling environment, the Grand Sirenis Punta Cana is a gorgeous sight to see!
You're currently reading "The top Punta Cana all-inclusive Family Resorts"
See things to do from Grand Sirenis Punta Cana
8. Paradisus Grand Cana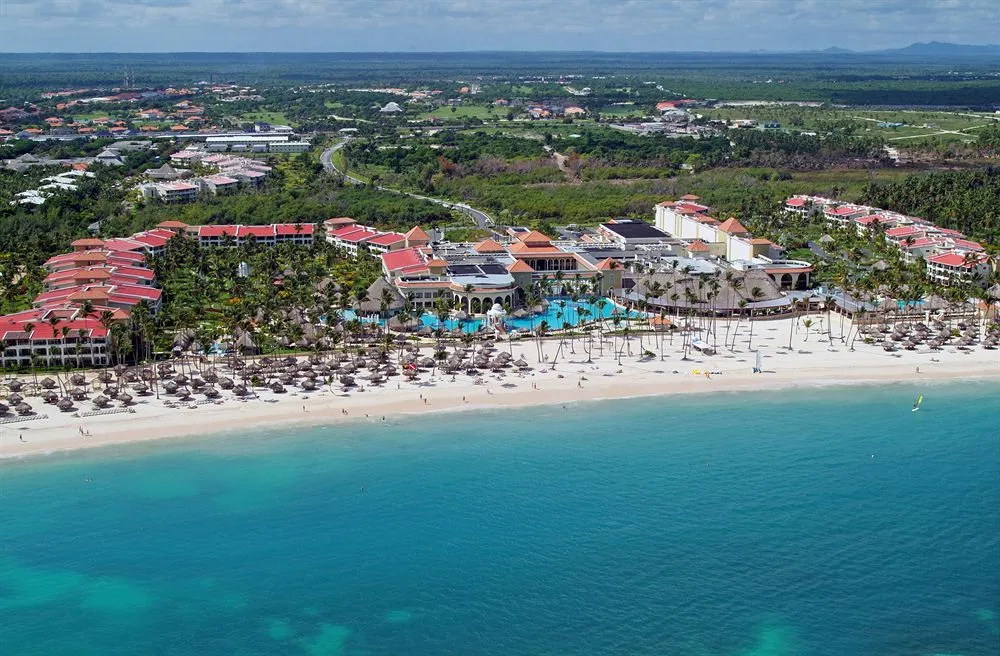 How does a professional fancy spa, and 11-themed restaurants, all enclosed in a harmonious and serene environment, sound? That's paradise! No wonder the name.
Well, this is a good option if you want some moments of deep reflection, meditation, and mindfulness in general on your vacation. The peaceful nature of the resort enhances awareness and gives perspective, teaching you to be more conscious.
It's a good alternative if you have an infant. For all the reasons stated above, the Paradisus Grand Cana is a choice to consider for family.
See things to do from Paradisus Grand Cana
9. Caribe Deluxe Princess
The Caribe Deluxe Princess contends for the most beautiful beaches in the republic, owing to its location. The luxurious and enormous swimming pools with sun decks for sunbathing and tanning give you quite the experience.
Sporting activities are not left out. Enjoy beach water sports, tennis, aqua-gym and so on both in the day and at night. There are various local and international dishes available; your taste buds will thank you.
With over 350 rooms, they have enough to accommodate everyone. You can Look forward to long-lasting vacation experiences with friends and family.
See things to do from Caribe Deluxe Princess
10. Ocean Blue & Sand Beach All-Inclusive Family Resort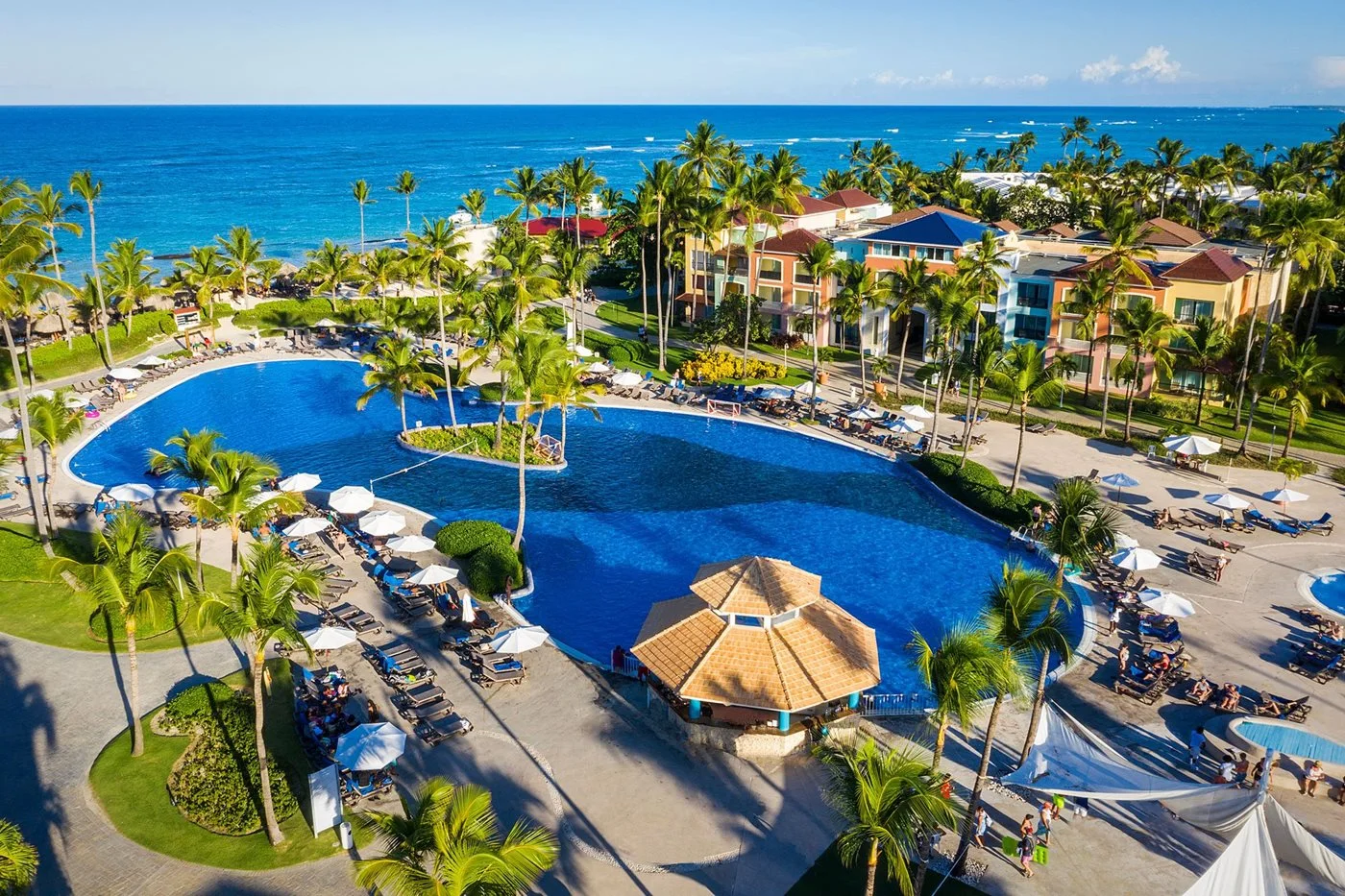 The Ocean Blue & Sand Beach Resort was renamed the Radisson Blu Resort and residence.
Visitors believe this destination to be one with the best collection of recreational activities. From the kids-loved daisy club to the adult-oriented swim-up bar, there is enough activity for every family member. They have streamlined each activity to match different age grades.
With many places, shops, and eateries, there's no limit to the areas you can explore. I assure you you'd have a valuable all-around service at the Radisson Blu Resort.
They also have comfortable and moderate rooms.
See things to do from Ocean Blue & Sand
You're currently reading "The top 15 Punta Cana all-inclusive Family Resorts"
11. Grand Palladium Punta Cana Resort & Spa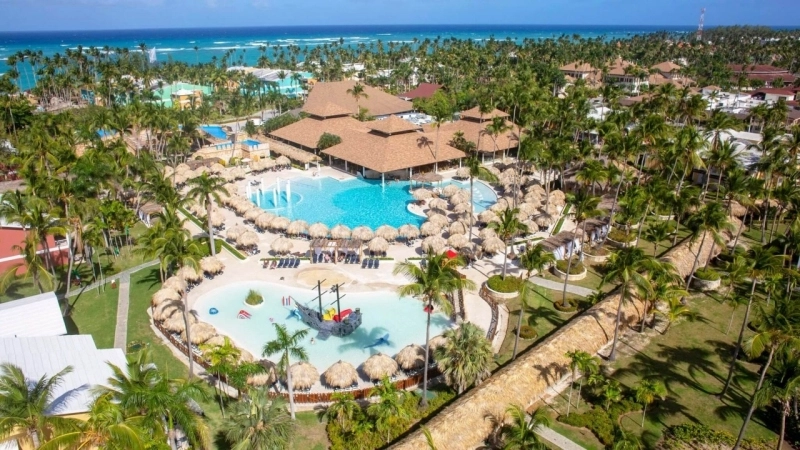 The Grand Palladium Punta Cana Resort & Spa is located on the luxurious and beautiful Bávaro Beach shoreline. This five-star hotel provides first-grade amenities and exhilarating activities for couples, groups of friends, or families.
The major pools, game center, and Merengue Theater are all conveniently located near the rooms, as are the mini club and baby club, which are kid-friendly attractions.
The beach is not far from the resort, so visitors can easily step out to enjoy the immaculate white sand and blue ocean or one of the many freshwater ponds.
See things to do from Grand Palladium
12. Impressive Premium Punta Cana All-Inclusive Family Resort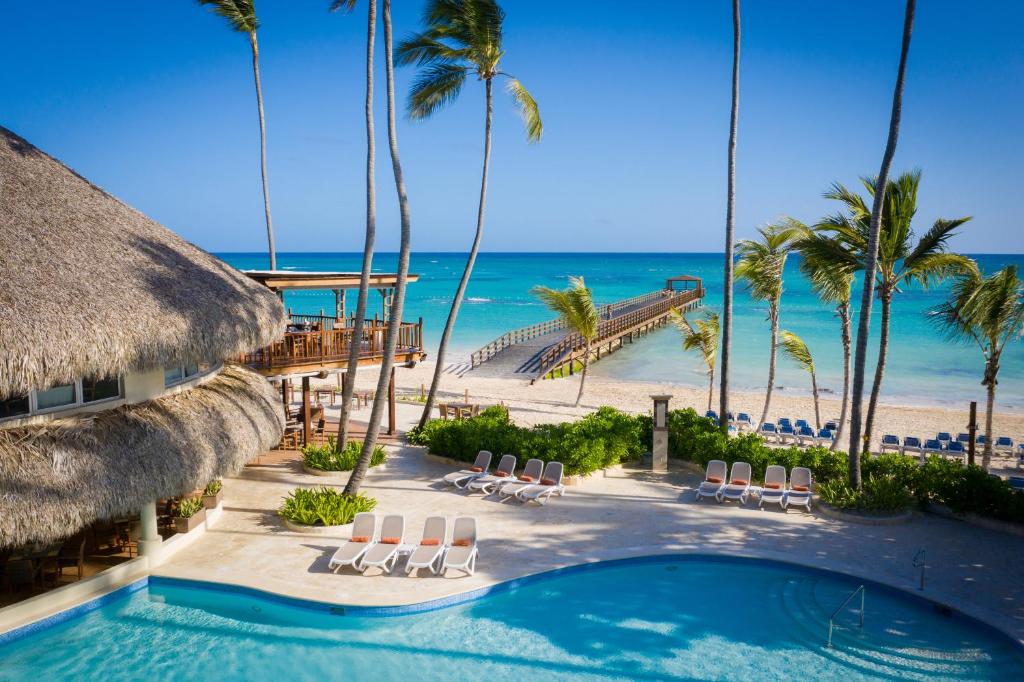 A is a five-star hotel in a tropical setting with sophisticated, cutting-edge amenities. That is how the Impressive Premium all-inclusive resort can be described.
The vacation center has exclusive VIP services, a nightclub, a gym, a movie theater, numerous restaurants and bars, and premium beach services. Large cozy rooms with king-size or double beds give you maximum sleeping comfort. It also has large connecting rooms for the family to stay together.
It also stands out for its different exotic wedding venues with breathtaking decorations. It's a great choice for your dream destination wedding, setting your matrimony on an incredible memory.
Family vacations would be fun on this site!
See things to do from Impressive Premium Punta Cana
13. Grand Palladium Punta Cana Resort and Spa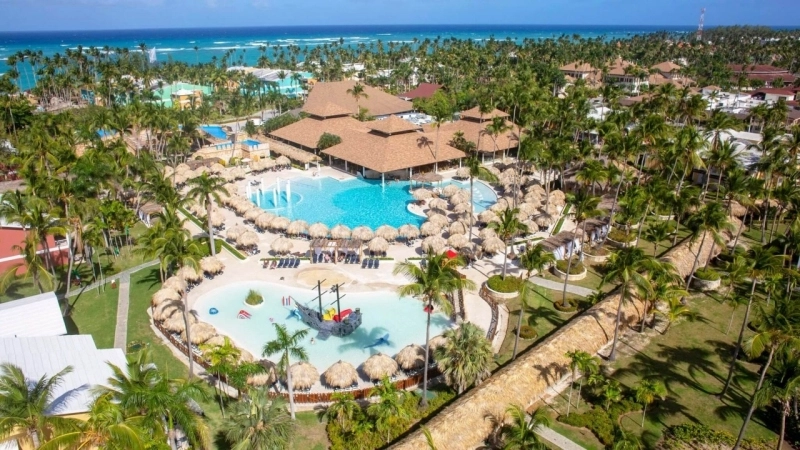 This resort offers luxury in a plain and simple environment. It manages to combine two contrasting features in one.
Over 650 rooms is a large number to choose from. You'll definitely find the suitable one for you. The resort has relaxation centers, five pools, a few restaurants, and many bars.
There are also a lot of sporting activities to participate in, including mini golf, water polo, archery, table tennis, and archery, among others. These may help keep your kids busy while you and your spouse have some alone time.
See things to do from Grand Palladium Punta Cana
14. Barcelo Bavaro Palace All-inclusive Family Resort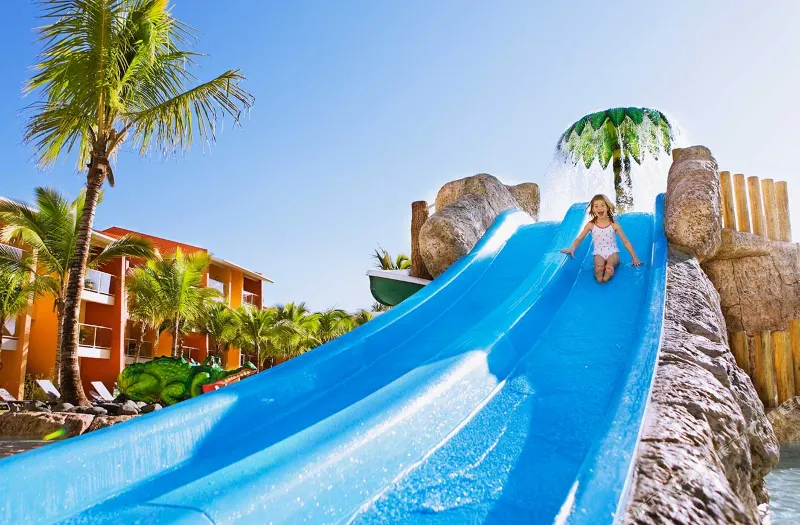 The Barcelo Bavaro Palace has a sparkling clean environment with an ambiance of freshness. The horticulture around offers a perfect blend of ostentation and simplicity.
There are many pools in different categories; the ones for kids, the almost Olympic-size pool, and the ones for adults, among others. The resort also maintains a water slide and a wave pool to give you further an excellent staying experience.
Their performance and theater show, with several sporting activities to choose from, would make you come back!
See things to do from Barcelo Bavaro Palace
15. Majestic Mirage Punta Cana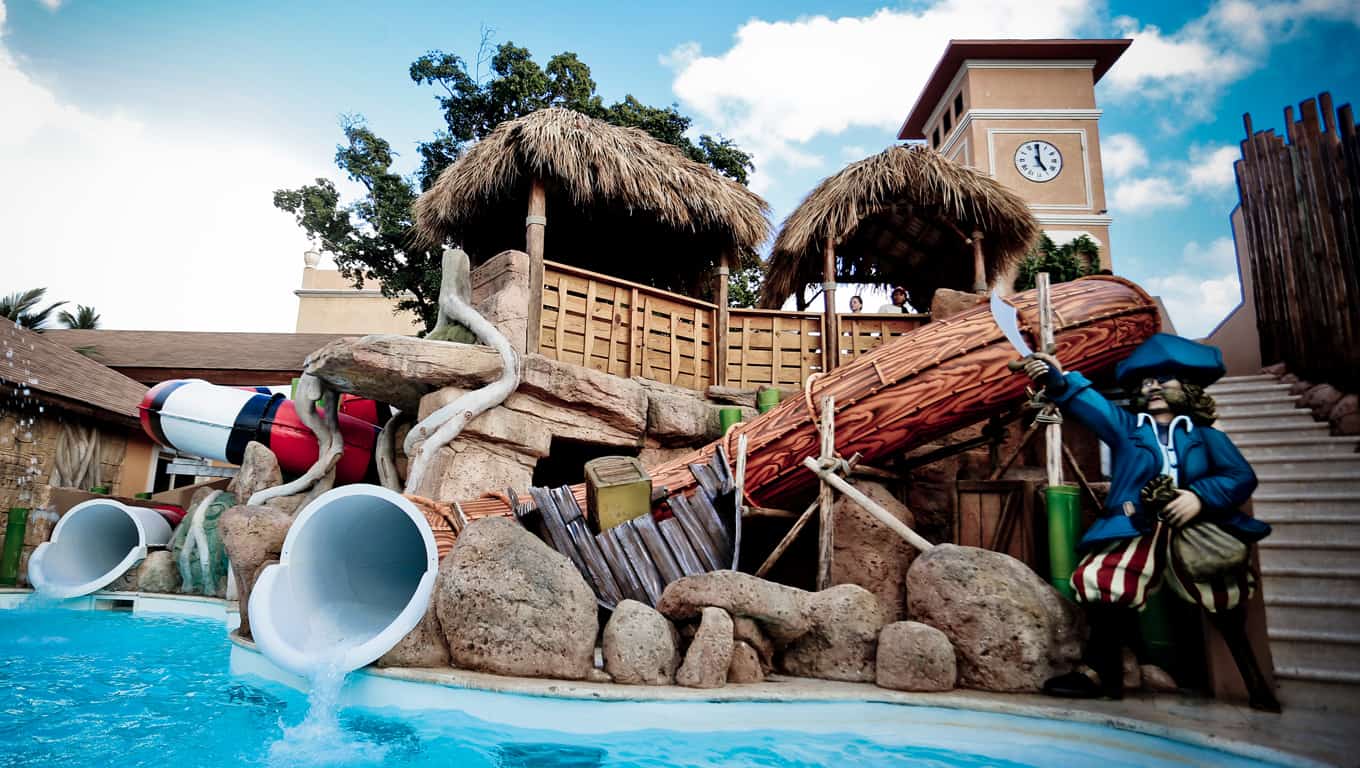 If you want world-class services and sophisticated amenities, the Majestic Mirage is the place to be. The Majestic Mirage Punta Cana is a popular option for luxury and sophistication.
It provides many amenities, including in-room dining, Butler services, VIP Lounges, an a la carte restaurant, a premium drink selection, and live music entertainment.
There's also free WiFi, a nearby golf club, air-conditioned rooms, and water-view rooms, among many others.
See things to do from Majestic Mirage Punta Cana
Conclusion on Family resorts in Punta Cana
Punta Cana is a destination for families to unwind and enjoy themselves in a child-friendly environment. Punta Cana has many all-inclusive family resorts, so all you have to do is pick one. 
We hope we were able to assist you in determining which Punta Cana family resort is best for you. We're Punta Cana Adventures, and we specialize in pre-planning your Punta Cana activities.
If you have any questions, please do not hesitate to contact us!