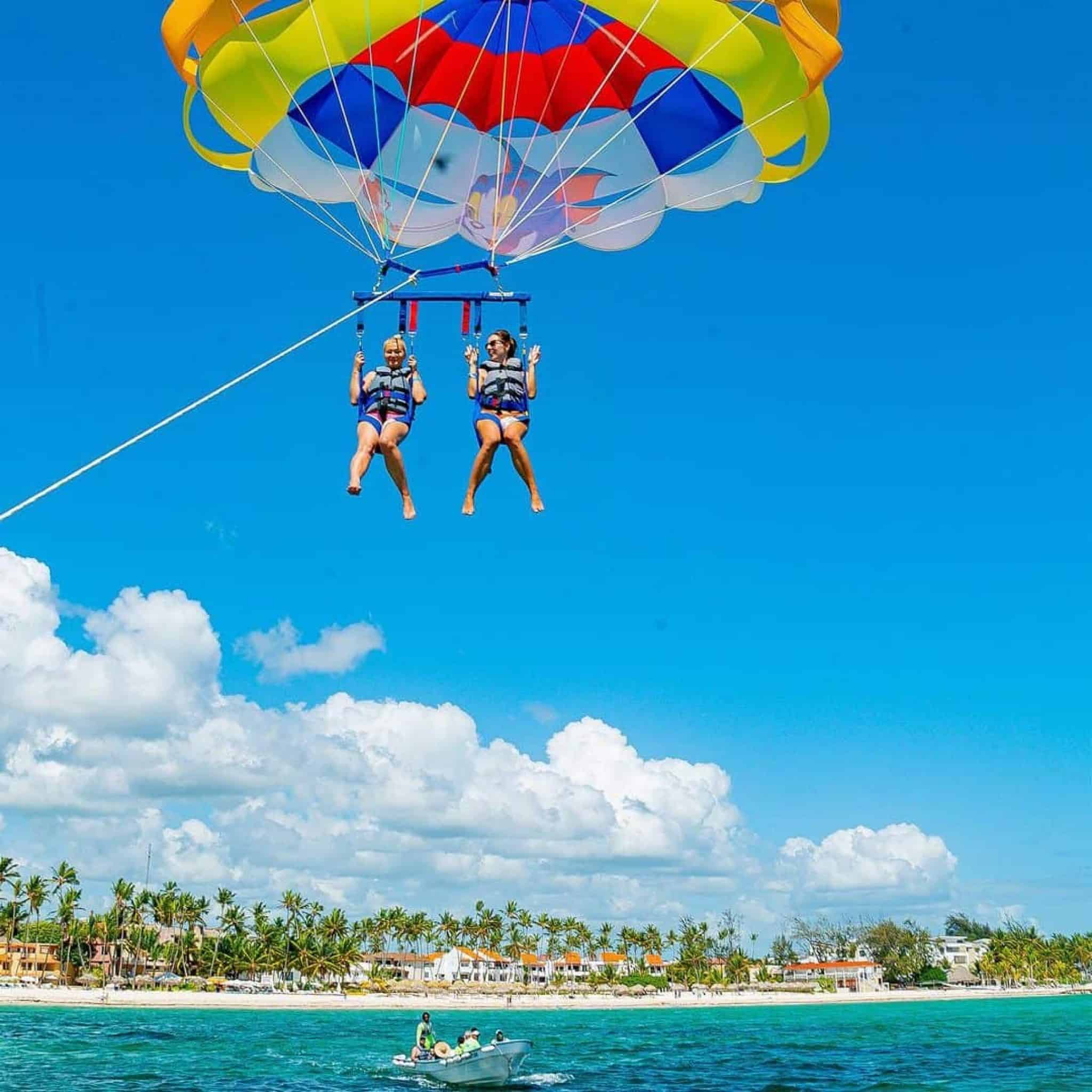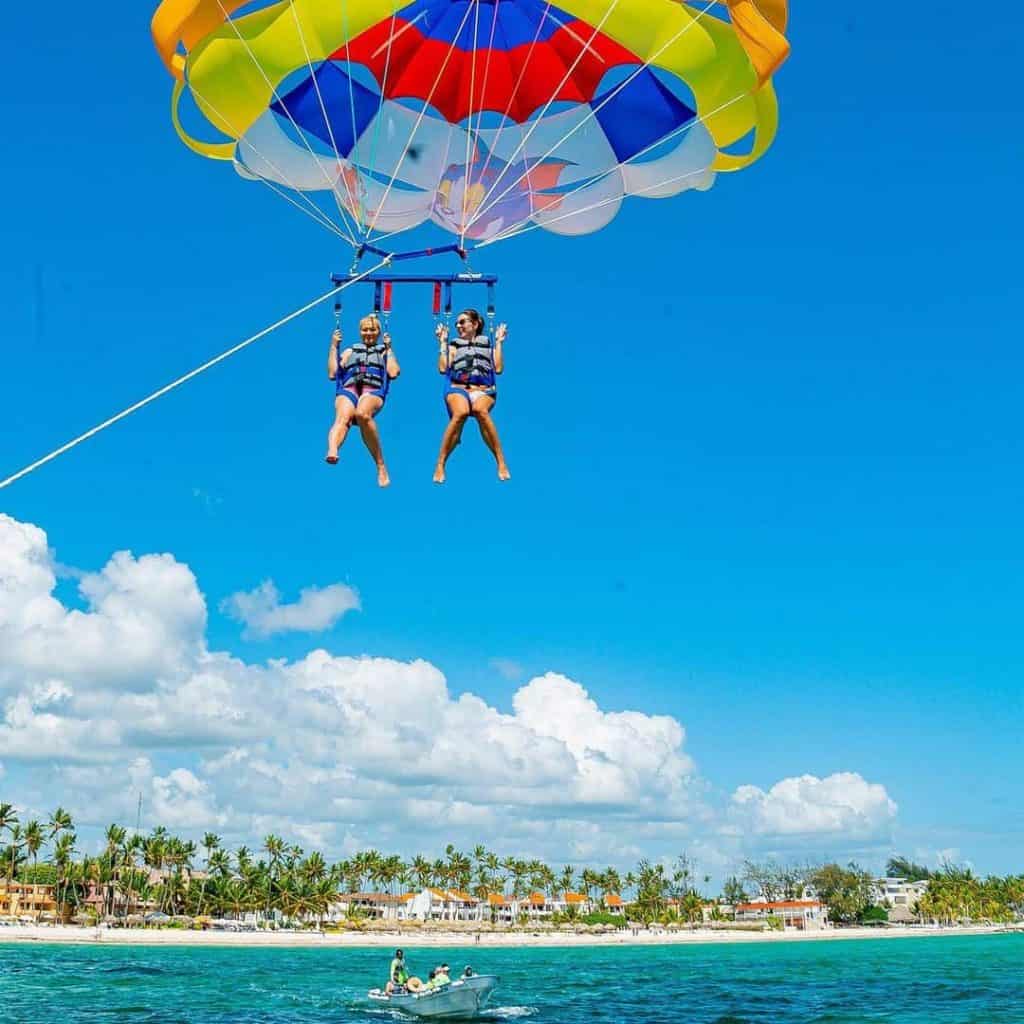 If you are searching for a taste of the tropics, Punta Cana is the ideal destination. Here, you will find yourself surrounded by the sand, sun, and sea on the Dominican Republic's eastern coast. Below are 20 of the best Punta Cana excursions, hotels, and restaurants:
Canopy ZipLine
Race through an exhilarating adventure in Punta Cana's high forest canopies with an exciting zip line tour. View the jungle-like scenery underneath as you coast across country roads and creeks. Eight double cables take you along thrilling and unpredictable turns and twists. If you are adventurous, this is one attraction you should not miss.
Catamaran Party Boat
An awesome catamaran passes along the Punta Cana coastline with splendid views of locals hotels, white sands and swaying palm trees. The catamarans bar is well stocked with an endless supply of traditional Dominican drinks such as rum, mamajuana, local Presidente beer (drinks are included and UNLIMITED), fresh fruit and nachos are also provided while the DJ will have the catamaran rocking with great music.
Cave Expedition

Hike through Cap Cana's Scape Park, which is home to the Dominican's most extraordinary caves and cliffs. You can hike along the flat trail or climb through jungle forests and cliffs to reach the mouth of the cave. If you are adventurous, this attraction should be placed on your must-see list.

A visit to Catalina Island to snorkel with colorful tropical fish is a great choice for those who enjoy water sports. The trip includes a delicious buffet after your snorkeling adventure, drinks from a local bar to enjoy on the beach, and a free merengue dance lesson. If you enjoy diversified excursions, the Catalina Snorkeling Trip is a great choice.
Dolphin Swim
If you enjoy small-group experiences and are a fan of dolphins, consider taking a dolphin swim. It is not surprising that this attraction is on the top of the list of popular Punta Cana excursions. During the swim, you can interact with these intelligent, friendly mammals under the guidance of an expert dolphin trainer.
Nestled in the Anamuya Mountains, this adventure gives Punta Cana visitors a chance to observe monkeys and birds in their natural environment, while at the same time enjoying outstanding views of the surrounding mountains. This experience is unforgettable for people of all ages and from all walks of life.
With this amazing Adventure, you can pilot your own speedboat and experience an underwater world with scuba equipment provided by your tour guide. You can also choose to indulge in an afternoon of sun from the open deck of the boat from where you can take an occasional swim.
Book your Excursions & Tours in advance. We provide roundtrip transportation from all hotels in Punta Cana.
No Payment Required - Schedule your activities today using our pay later option!

If you enjoy good food and delicious cocktails in a dance atmosphere, you should consider partying the night away at the Coco Bongo Nightclub. Tickets to a night in this establishment include dinner, unlimited drinks and nonstop entertainment.
Nightclub in a Cave at Imagine Cave
Punta Cana excursions at night can be every bit as fun as daytime adventures. The Imagine Punta Cana is a nightclub designed to look like a natural cave and is one of the finest establishments in the area. Here, you can enjoy Latin rhythms, top 40 tunes, and special performances against the backdrop of the most modern lighting systems and through state-of-the-art sound systems.
Catalina Chavon Adventure
A boat tour is also a great way to see beautiful area attractions. On this adventure, you ride down the Chavon River, where you can snorkel in warm tropical waters to view colorful fish, and eventually visit a medieval town, where you can indulge in a buffet lunch included in your ticket.
Caribbean Pirates Excursion
Embark on a classic treasure hunt led by pirates of the sea, as you interact with stingrays and sharks, snorkel in a natural reef, and eventually reach Shark Island to watch an authentic, swashbuckling sword fight. If you are looking for outstanding Caribbean sightseeing opportunities, this family-friendly excursion is perfect.
Caribe Eco Tour
Enjoy a day of spectacular sights, such as the Basilica of La Altagracia, when you take a guided Caribe Eco Tour. One of the area's best Punta Cana excursions, the tour bus passes famous attractions along its route and then stops at a local museum, a beautiful beach, and other major landmarks in the area.
Dino World
Dino World, located in Bavaro Adventure Park, is a terrific way to learn facts and unravel mysteries surrounding the fascinating dinosaur. With re-creations of these massive creatures, now extinct for over 65 million years, this exhibit will never be forgotten. Included in the ticket is round-trip transportation to and from most nearby hotels.
Some of the Best Hotels in Punta Cana
Waking up in the morning after a refreshing night's sleep at one of the Majestic Resorts in Punta Cana is an experience you will enjoy if luxurious, restful surroundings are a priority. This hotel offers a private beach, free shuttle service, and boat rentals if you decide to spend a day on the ocean.
Another great establishment to consider is the Hotel Riu Palace Bavaro. Offering rooms, suites, and villas, this beachfront hotel boasts beautiful landscaping, a staff that works non-stop to offer guests every comfort, and a restaurant, sauna and VIP pool area.
If you crave privacy in a luxurious environment, the Iberostar Grand Hotel Bavaro is a great choice. Located on an expansive property surrounded by beautiful scenery, this establishment has access to a less populated area of the beach, so you do not feel overwhelmed by tourists.
The attractions and activities listed above are just some of the numerous options available in this area of the Dominican Republic. Regardless of which Punta Cana excursions you find most appealing, you will likely never forget your trip to this beautiful tropical paradise.
Book your Excursions & Tours in advance. We provide roundtrip transportation from all hotels in Punta Cana.
No Payment Required - Schedule your activities today using our pay later option!