Are you planning a trip to Punta Cana in the Dominican Republic soon? Knowing a bit about Punta Cana International Airport up front will help get your vacation off to a great start.
Let's introduce you to the place and give you a few tips to make things a little easier while you're preparing for your visit.
About Punta Cana International Airport
Punta Cana Airport is a big deal around here: it's the busiest in the Dominican Republic and the second busiest in the Caribbean.
In 2019, it served almost twice the number of passengers that Las Américas International Airport in Santo Domingo did during the same year.
Post-pandemic, numbers are returning to normal, and the airport is once again hosting dozens of airlines from around the world.
But Punta Cana Airport's not just big: it's also beautiful. The Airport was designed by Oscar Imbert. With open-sided terminals and a thatched roof to reference the local tradition of outdoor living
The result is a light and airy space that's a pleasure to travel through. If you just can't wait to tap into that laidback vibe then good news – your relaxed vacation starts right here.
Location, Layout, and Amenities
Punta Cana International Airport is near Punta Cana Village on the Dominican Republic's eastern coast. It's no surprise that this is a major hub for visitors to this part of the Caribbean, given the ease of access to some of the country's best beaches by road.
There are two main terminals, each with its own facilities such as baggage reclaim and currency exchange.
Duty-Free Americas offers a wide selection of fragrances, alcoholic drinks, tobacco, and gifts. Brisas del Caribe is perfect if you're looking for a last-minute souvenir, stocking a range of art and handicrafts.
The airport's food court also has a good selection of international dining options. Wendy's, Sbarro, Nathan's, Cinnabon, and Baskin-Robbins are among the options for a quick snack on the go.
Which airlines fly there?
As you'd expect from a busy airport like Punta Cana, numerous airlines fly in from around the world; some offer daily service.
Many airlines make the relatively short hop down from the United States and Canada.
As a result, all the major North American airlines fly here:
Delta Airlines
United Airlines
American Airlines
Southwest Airlines
JetBlue
Spirit Airlines
Air Canada
These airlines fly to major hubs like New York, Atlanta, Washington, and Toronto.
There are many links between the Caribbean and Latin America. Here are a few examples:
Copa Airlines to Panama City
Avianca Airlines to Bogota, Colombia
Brazilian carrier Gol to Sao Paulo
LATAM Airlines to Lima, Peru
Aerolíneas Argentinas to Buenos Aires
British Airways and TUI capitalize on the buoyant UK demand for affordable Caribbean sun, while Air France, Eurowings, and Air Europa serve a larger European market.
Tips for Getting through Passport Control Faster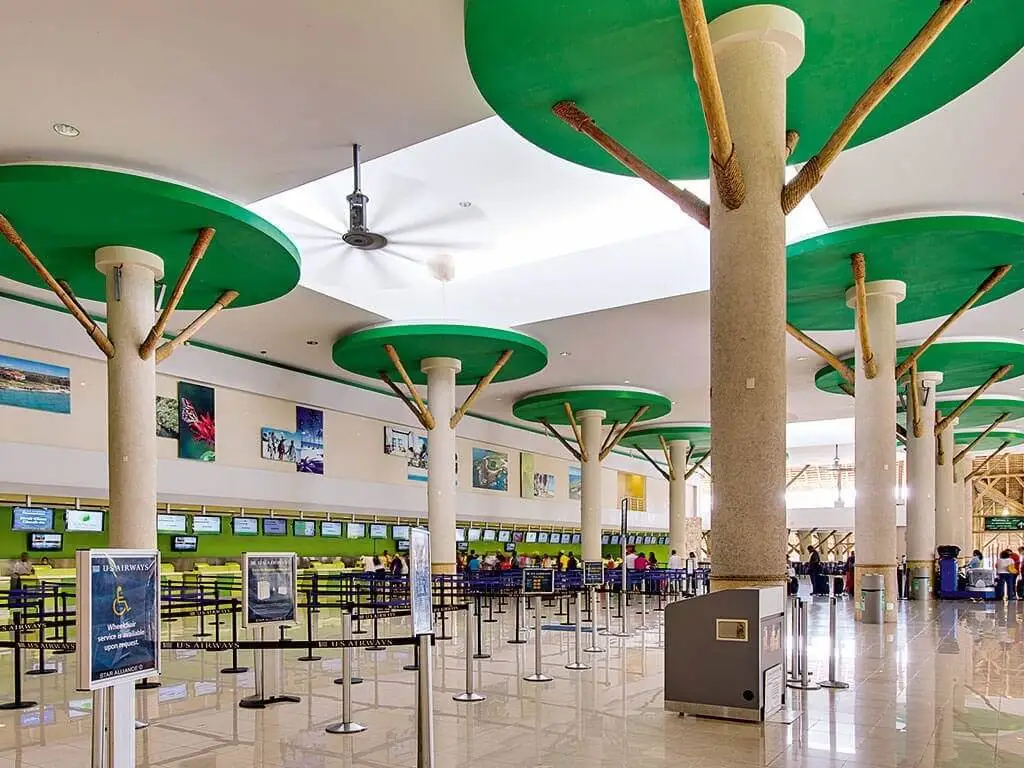 When your plane lands on the tarmac, you'll want to get through the airport as quickly and efficiently as possible so you can begin your vacation.
One thing you can do when booking your flight is to select a seat that's as far forward on the plane as possible. That way, you'll be more likely to reach passport control ahead of your fellow passengers and not find yourself at the back of a queue.
Another useful tip we'd like to share is that you can fill in your e-ticket prior to arrival. All incoming and departing passengers, regardless of visa status, need to fill out this form.
It's simple to do it online using this form and there's even a short and easy-to-follow video that explains what you need to do. When you have successfully completed the form, a QR code will be generated which you'll need to have with you.
If you've read about paying a tourist tax on arrival, this should now be included in the price of your airfare.
Getting Your Bags After Your Flight to Punta Cana
As an arriving passenger, you'll land at one of Punta Cana Airport's two terminals, A or B.
Unless you've traveled with cabin bags only, as soon as you've cleared immigration you'll need the baggage reclaim hall.
Each terminal has its own series of baggage reclaim belts, so take a look at the screens to work out where your luggage will appear. Nearby, you'll find foreign exchange kiosks, ATMs, taxis, car rental desks, and bathrooms.
The airport's website has a handy map so you can work out where you are. If you're lucky, you'll be greeted by a live band. They'll get you in the mood for a tropical vacation with some foot-tapping merengue tunes.
Which Hotels are Closest to Punta Cana International Airport?
If you're the kind of traveler that likes to get their vacation started as quickly as possible then you'll be delighted to learn that there are a number of great hotels located close to Punta Cana Airport.
Ditch those dreaded lengthy bus transfers in favor of a quick ride to stay in hotels such as these:
Four Points by Sheraton Puntacana Village
The Four Points by Sheraton Puntacana Village, a three-star Marriott group hotel, is a solid choice if you want to stay close to the airport – it's actually within walking distance of Terminals A and B. The property features stylish contemporary rooms with modern ensuite bathrooms, as well as an attractive pool area with a covered terrace restaurant. It's a short stroll to a cluster of restaurants and though it's not waterfront, there's a free shuttle to the hotel's private beach.
The Westin Puntacana Resort and Club
The Westin Puntacana is a high-end resort aimed at discerning guests who appreciate the convenience of a location close to the airport. It is about a 10-minute drive from the terminal buildings. The property enjoys a beachfront location with direct access to three miles of glorious white sand. If you plan to be a little more active, the hotel has a gym and outdoor pool. It offers a range of water sports and there are two championship golf courses nearby.
Tortuga Bay
Smarter still is the luxurious Tortuga Bay, less than 15 minutes by car from Punta Cana Airport. This fabulous five-star resort, designed by Oscar de la Renta, is the only AAA Five Diamond property in the Dominican Republic.
Step inside and you'll soon see why: exquisite suites and villas nestled in a 1500-acre nature reserve facing the ocean. Tennis, golf, yoga, diving, and an upscale spa put the emphasis on wellness, but the hotel's fine dining restaurants are also too good to resist.
Private Transfers from PUJ to Your Hotel
There are some rental agencies at Punta Cana Airport that will be happy to sort you out with a car at a competitive price.
Punta Cana Adventures has made it simple for you to pre-book roundtrip transportation. Enter your flight information on our Airport Transfers page. We'll contact you shortly after you submit your application.
You can also rent a car directly at the airport from companies such as Hertz, Avis, Dollar, Budget, and Europcar; if you've already signed up for a loyalty program it's likely that your preferred provider can get you set up at Punta Cana international.
If you don't wish to rent a vehicle, then it's straightforward to arrange a taxi. Rates are fixed; this table will give you an idea of how much to expect a transfer to cost to your hotel, but check the updated price list on arrival as rates can change. Keep in mind, that taxis charge a one-time fee that is higher than a roundtrip transfer.
Some hotels provide shuttle services, such as the free transfer provided by the Four Points by Sheraton Puntacana Village.
It's worth contacting your hotel in advance to see if they offer something similar; some make a small additional charge for this service. We recommend that you book your airport transportation with us if your hotel does not provide this service. This will give you the assurance that everything will be in order before you arrive.
Covid-19 Protocol at Punta Cana International Airport
Though we hope that the worst of the pandemic is behind us, COVID-19 protocols still exist to keep travelers and airport staff safe.
Though the government of the Dominican Republic has lifted all COVID restrictions, things can change at short notice so it's advisable to check reliable sources regularly for updates.
Wearing masks, hand sanitizing, and social distancing are all recommended, but not required.
Currently, there's no requirement to take a PCR test or show proof of COVID vaccination when arriving at Punta Cana Airport. But all travelers still need to fill in a COVID Traveller's Health Affidavit (which forms part of that e-ticket you need to fill in for immigration).
This confirms you have no coronavirus symptoms and are willing to share your contact details.
Conclusion
If you're planning a trip to the Dominican Republic in the near future, learning more about Punta Cana International Airport ahead of time can help you get the most out of your vacation!
We're glad you took the time to learn these key facts and tips, whether you're flying into Punta Cana International Airport or just catching a connecting flight.
You'll be happy you did!