With 35 km of continuous white sand, Punta Cana has no shortage of beautiful beaches. The beaches around Punta Cana are some of the best in the Caribbean and without a doubt the most spectacular beaches of the entire Dominican Republic. Ask anyone who's been to Punta Cana, and they will tell you that the beaches are among the most picturesque that they've ever seen. Here, tall coconut palms dot much of the seashore, and the soft, white sand is inviting. If you are beach freak like us, you will likely want to drive around to visit all of them. Yes, we gotten lost, dug the car out of the sandpit, and drove for 2 hours on a dirt road only to have to turn around.
In general, sands are the softest and whitest around the Playa Bavaro area. As you make your way down south toward Juanillo and Cap Cana, the beach has some more rocks, seaweeds, and less pristine. Beaches in the North such as Macao and Uvero Alto are golden sand but are largely undeveloped and very secluded. Below are our picks of the best beaches in Punta Cana that are easily accessible.
Some of The Best Beaches in Punta Cana:
North
Playa Bavaro – The main tourist beach in Bavaro, Playa Bavaro is beautiful with powdery white sand and coco palms leaning onto the shore. Bavaro beach is very long and an evening walk along Playa Bavaro can seem endless. The public access to this beach is a road (very clear sign) located just south of Melia Caribe Tropical Resorts. The road ends at a large parking lot, which is mainly for the gift shops/market. Walk past the gift shops and find your perfect spot on the beach.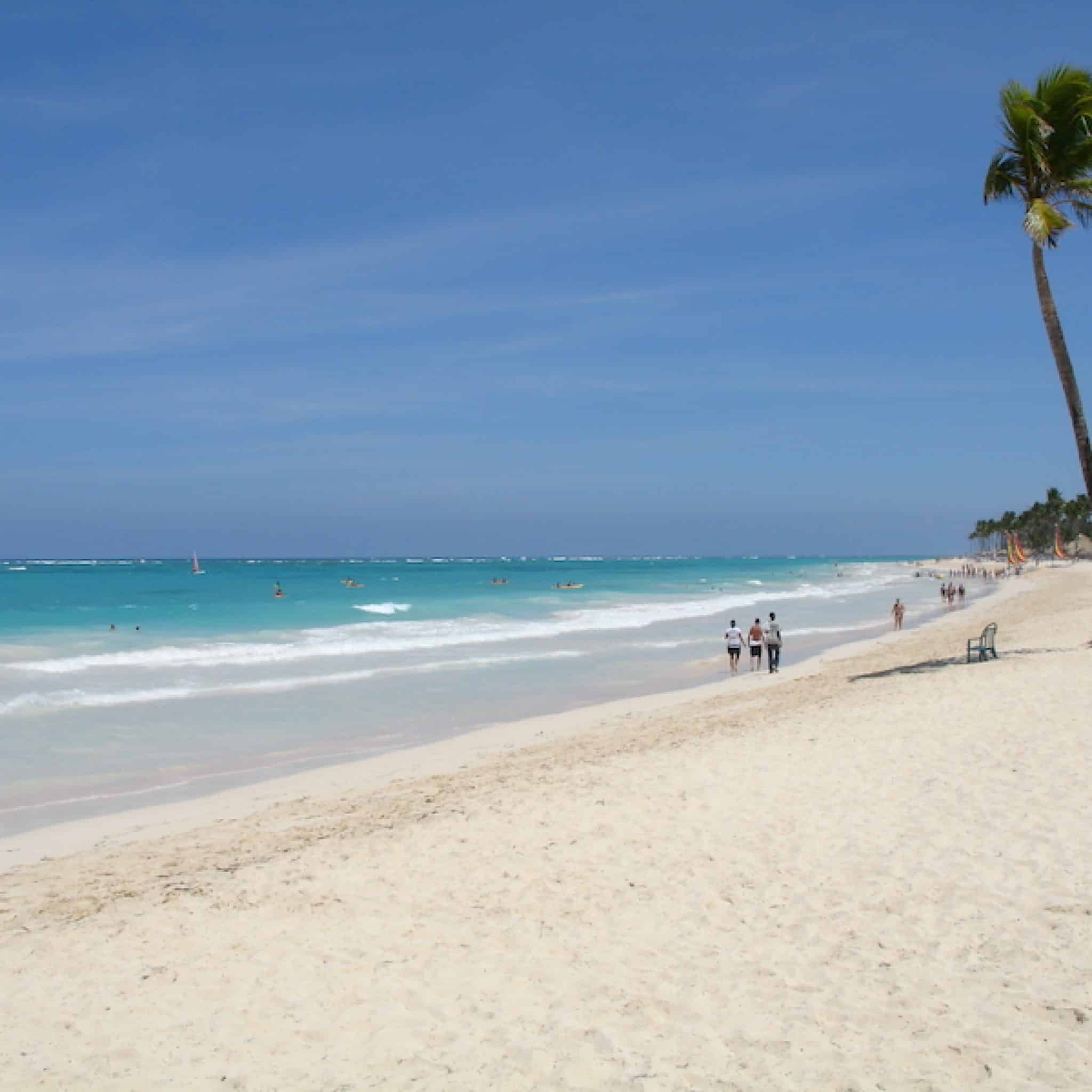 El Cortecito – El Cortecito Beach, in the heart of Bavaro, is the closest to a small beach town/fisherman village in the area. This area is considered to be the downtown of Bavaro-Punta Cana. You will find restaurants, bars, pharmacies, supermarkets, shopping centers, gift shops, and banks. Just walk past the beachfront restaurant and gift shops to get onto the beach.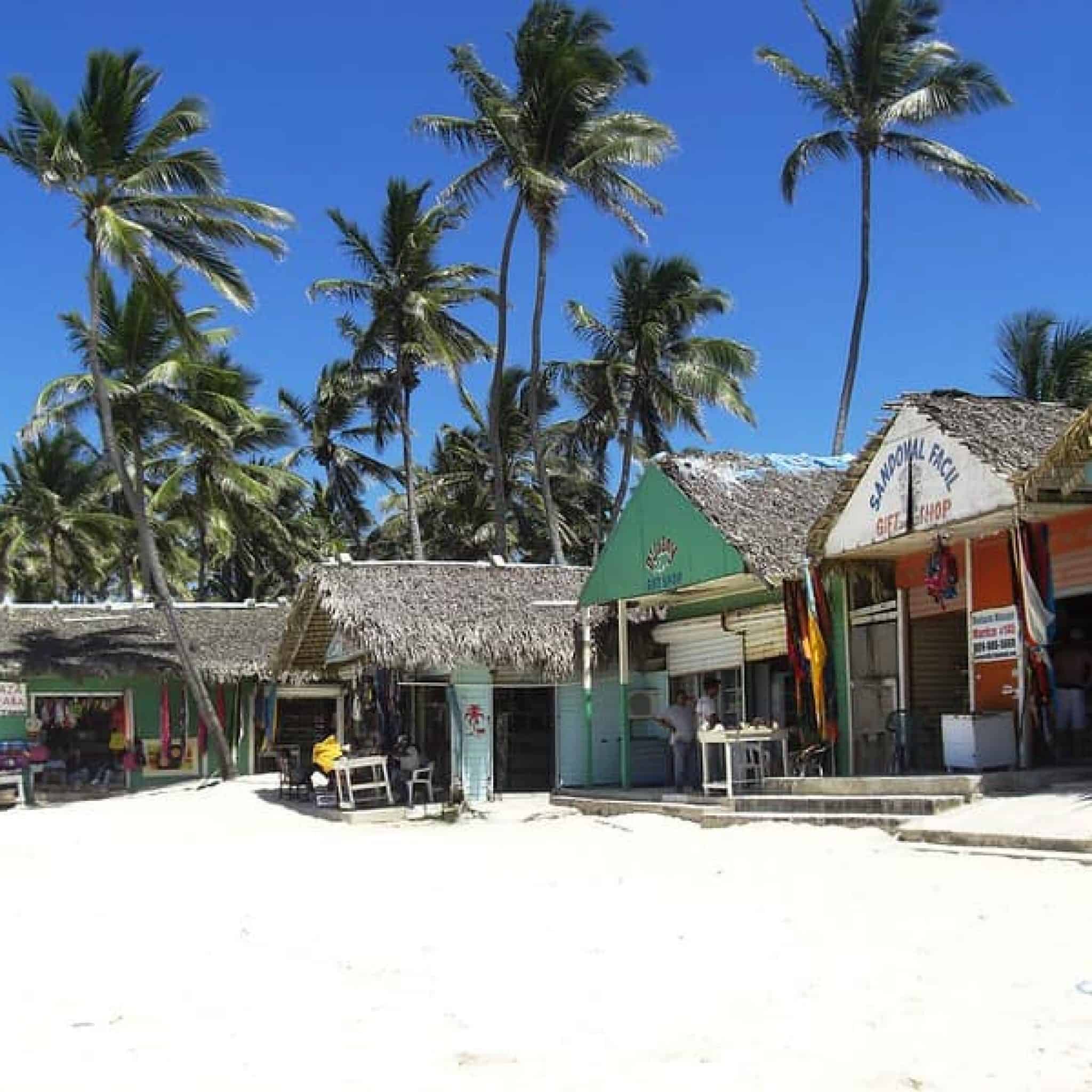 Book your Excursions & Tours in advance. We provide roundtrip transportation from all hotels in Punta Cana.
No Payment Required - Schedule your activities today using our pay later option!
Arena Gordo – Also known as the Fat Sand Beach because of its wide sandy beach that slopes gently down to the sea. Shallow water gives this beach its beautiful blue color and many people say this beach it's perfect for kids. Public access can be difficult and you pretty much have to stay at one of the resorts in the area. However, we found a public beach access via Ocean Blue & Sand Service Entrance.
Macao Beach –  An undeveloped, virgin beach around 20 to 30-minute drive north of Bavaro.  Driving there you pass through the little town of El Macao, and as you reach the crest of the hill you'll see the beautiful sight of Macao beach spread out before you.  There is Macao Surf Camp, where you can rent or get surfing lesson, and restaurants right on the beach.   Macao beach is popular with local Dominicans (especially at weekends) and serves as a stop off point for a cooling swim for many of the safari truck tours and the ATV/buggy tours.
Uvero Alto – Our favorite but a bit out of the way to get to. We found it by accident because we were lost trying to get to Miches. Uvero Alto is not a well-known beach area. Unless you are staying in one of the secluded high-end resorts in this area, you likely will never know about it. The area outside of the resorts and hotels is relatively undeveloped and with nowhere else to eat or shop. On the 105 from Macao going toward Miches or Laguna de Nisibon, look for a road on the right side with a sign that says Miches/Uvero Alto. Follow this narrow 2 lane road through the countryside, pass a few secluded resorts, pass the Sivory resort, and all the way until it ends and turns into a narrow dirt road. Continue for another 100 meters on this narrow dirt road and you will come to a secluded beach. The beach is very wide, with lush green coconut forest leaning onto it. With the exception of a couple of folks on horseback riding tour, you may be the only people on this long, wide, beautiful beach.
Read also; Things to do in Punta Cana
South
Cabeza de Toro – Playa Cabeza de Toro is the perfect place if you want to be surrounded by the natural beautiful forests and wildlife of Punta Cana. If you like you can take a horseback riding excursion through the forests at the Natura Park Eco-Resort. South of the Barceló Bavaro golf course, along with the Bulevar Turistico del Este, you will see a road with a sign toward Cabeza de Toro. At the end of the road, you will pass through a military area and then come to a parking lot. Walk north past the Dream Palm Beach Resort to get to the more secluded/natural area.
Playa Blanca – A shallow water beach area that is perfect for kids as well as kite and windsurfing. This white sand beach has very calm/clear water and can be a good photo spot. To get there, you will have to pass through the gated area of the Punta Cana's Resorts. Just tell them you are going to Playa Blanca or its restaurant and they will give you a day pass in exchange for your passport or driver's license. Because it is located inside this gated resort area, Playa Blanca is very secluded. Secluded and beautiful, with a nice restaurant/bar next to it, one can spend a whole day here.
Book your Excursions & Tours in advance. We provide roundtrip transportation from all hotels in Punta Cana.
No Payment Required - Schedule your activities today using our pay later option!
Juanillo – Juanillo is a beautiful secluded beach toward the south end of Punta Cana, in Cap Cana area. It is located right next to the Sanctuary Cap Cana Resorts. There is a beautiful beach restaurant here with cabanas and beach lounge sofas. The food is a bit pricey, but the area is luxurious and beautiful. We spent the afternoon here, eating lunch, playing frisbee, and even bought fish from local fisherman. The colorful Volkswagen van next to the restaurant makes for a good photo. To get there, take the road toward Cap Cana. You will then come to a gated area and you have to go through the same method as Playa Blanca above. Just mention you are going to Juanillo and hand over your ID, driver license, or passport.
Other Beaches in the 1-hour drive – Within 1 hour, you can make your way south to Bayahibe, Playa Dominicus, and then perhaps a boat ride to the must-visit Saona Island.