Prepare to be wowed by some of the most breathtaking views of the Caribbean Sea and the Atlantic Ocean in Punta Cana! The beaches at this destination are a sight to behold, varying from vibrant turquoise to crystal-clear water. To round out your stay in this tropical paradise, you'll need to book one of the 11 gorgeous Punta Cana swim-up rooms.
Please continue reading to learn everything there is to know about them!
The Top 11 Punta Cana Swim-up Rooms
Here's a list of Punta Cana resorts and hotels with the best swim-up accommodations:
Swim Up Rooms at Paradisus Palma Real Golf & Spa Resort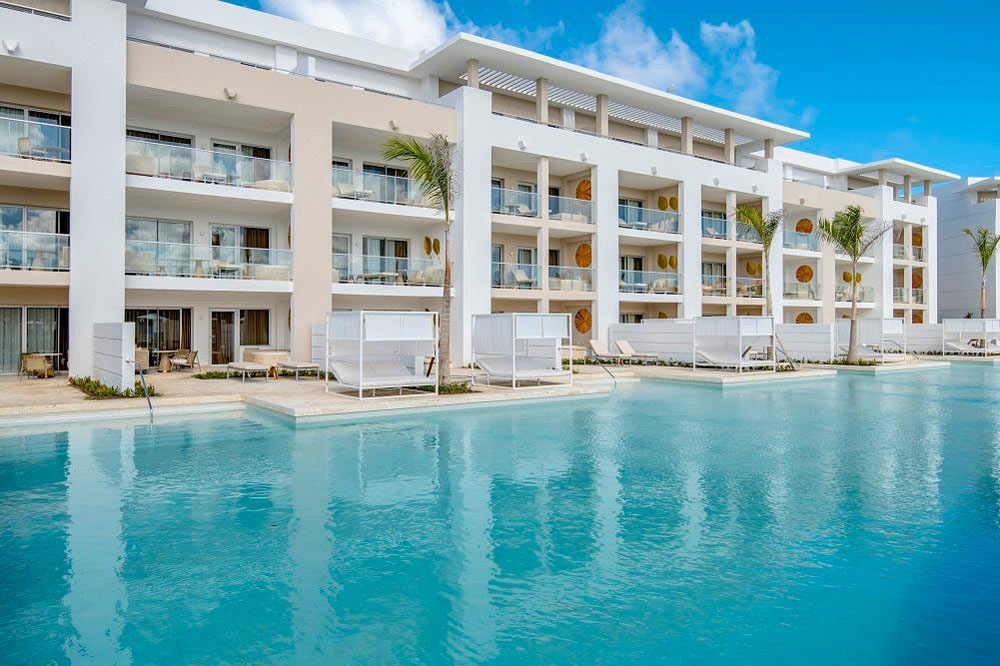 The Paradisus Palma Real resort is located on the idyllic Playa Bavaro. It has a magical setting that'll captivate all of your senses.
As you gaze out at the turquoise water, your toes will sink into the soft white sand. Not to mention the natural floral scent you'll smell throughout your stay from their lush gardens.
We didn't expect anything less than a flawless swim-up suite at the Paradisus Palma Real. If you want luxury and excellent service, their Nikté Junior Suite Swim-up is for you.
The terrace of the suite provides direct access to the pool. The suite has a king-size bed, a sofa bed, and a premium minibar. That said, you must visit their spa if you want a full relaxation experience.
To treat your taste buds, we advise you to go to one of their many fantastic restaurants, Passion By Martin Berasategui. In case you didn't know, Martin Berasategui is a great Spanish chef who has received 8 Michelin stars to date!
Discover the beauty of our city with our top-rated tours and excursions. Reserve now and pay later!
Swim Up Rooms at TRS Turquesa Hotel
Planning a getaway with your partner? TRS Turquesa Hotel is certainly worth a look. It's an adult-only hotel with a lovely romantic atmosphere that's ideal for couples.
This hotel has three stunning swim-up suites called Villa, Junior, and Romance. In addition to direct pool access, the Romance Suite features a jacuzzi.
The hotel grounds include a one-of-a-kind bar and restaurant collection. They have many hip bars and restaurants that serve a variety of cuisines such as Asian, Mexican, and American.
Swim Up Rooms at Lopesan Costa Bavaro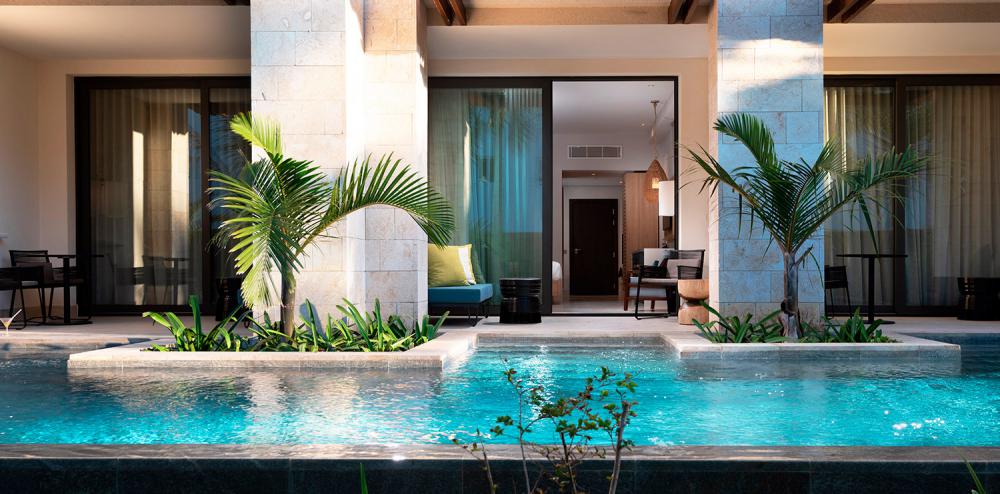 Lopesan Costa Bavaro is a high-end all-inclusive hotel with many swim-up rooms for guests to enjoy. These rooms have direct access to the pool, so guests can swim and relax in the warm Caribbean waters without ever having to leave their room.
The swim-up rooms at the hotel are elegantly designed and have all the amenities you'd expect from a five-star hotel. There are different kinds of rooms for guests to choose from, such as standard swim-up rooms, swim-up junior suites, and swim-up family suites.
The standard swim-up rooms have a king-size bed or two double beds, a private terrace with direct access to the pool, and a bathroom with a shower and a hairdryer. The junior suites and family suites have more space and amenities, like a separate living room and a jacuzzi.
Explore our hidden gems and famous attractions with our curated tours. Reserve today and pay later!
Swim Up Rooms at Nickelodeon Hotels & Resorts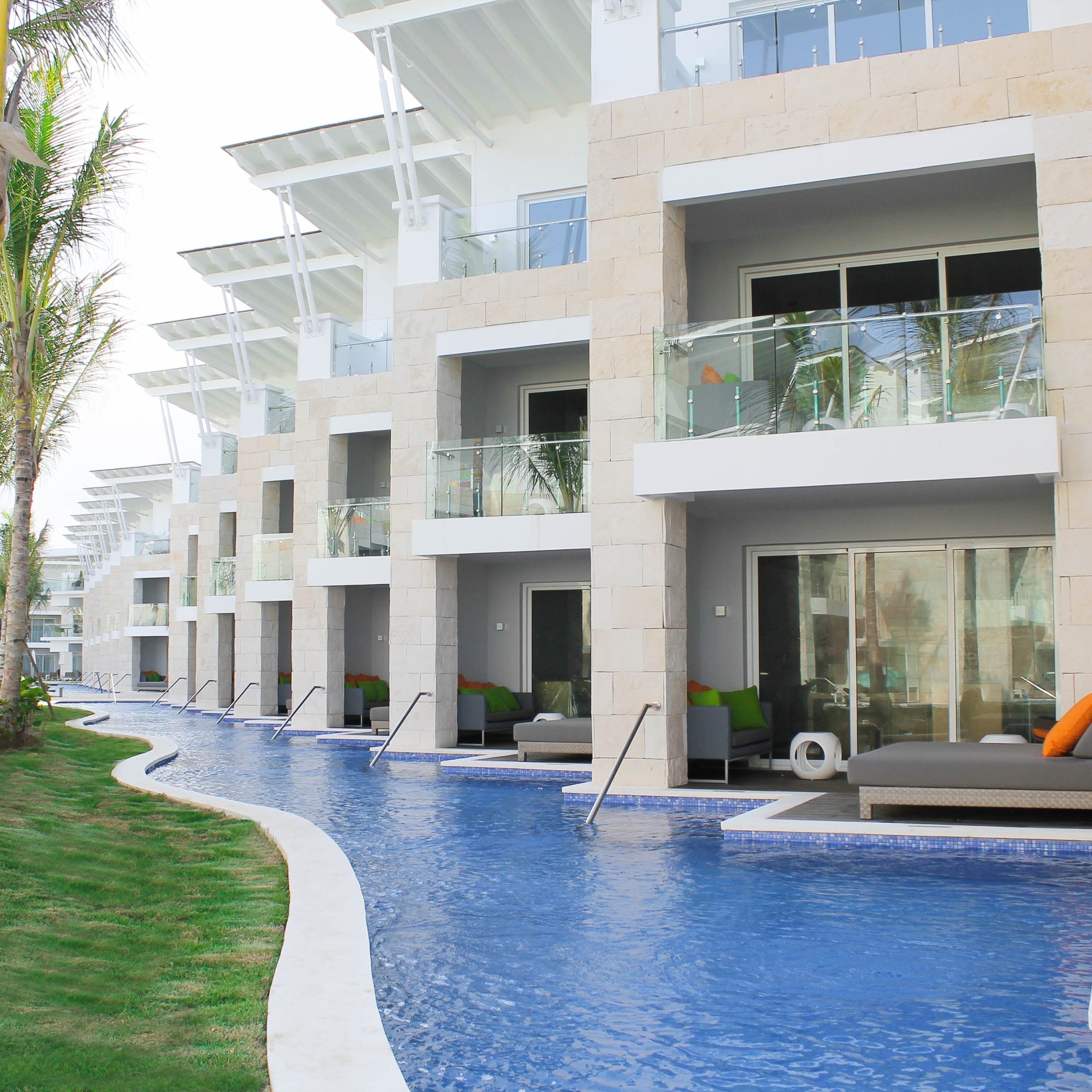 Nickelodeon is hands down one of the best family resorts in Punta Cana. This location is wholesome for family vacations. It has a wide range of activities that you can all try out as a family, so you won't be bored for a minute.
Besides, kids — and us, to be completely honest — go crazy when they get to visit Spongebob's pineapple villa at the resort!
This resort offers two types of swim-up suites: Flat and Swank Wraparound. These suites can sleep three adults or two adults, and two children, or two adults, one teen, and one child. Both provide direct access to a private pool.
The Swank suite is slightly better than the Flat suite. It's more spacious and has more amenities, such as an outdoor daybed for stargazing and a dining table.
Swim Up Rooms at Royalton Punta Cana Resort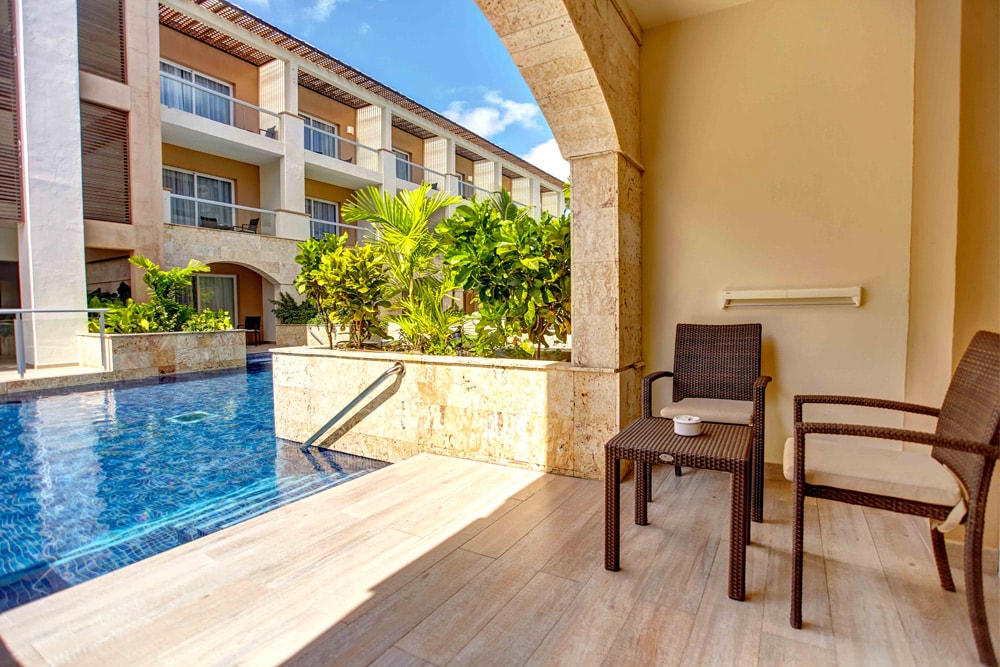 At the Royalton Punta Cana Resort, you'll have a blast whether you're traveling alone, with a partner, or with your family. This resort has an abundance of amenities, facilities, and activities to suit all tastes. For example, there are 11 restaurants there.
The best part is that while on a family vacation, you won't have to worry about spending quality time with your significant other. This resort has a kid's club, a teen lounge, and babysitting services.
Direct pool access is available in their Luxury Presidential One-Bedroom and Two-Bedroom Suites and the Luxury Room. Let's just say that these accommodation options scream royalty!
Besides, Royalton's fitness center and royal spa will pamper both your body and soul.
Swim Up Rooms at Breathless Punta Cana Resort & Spa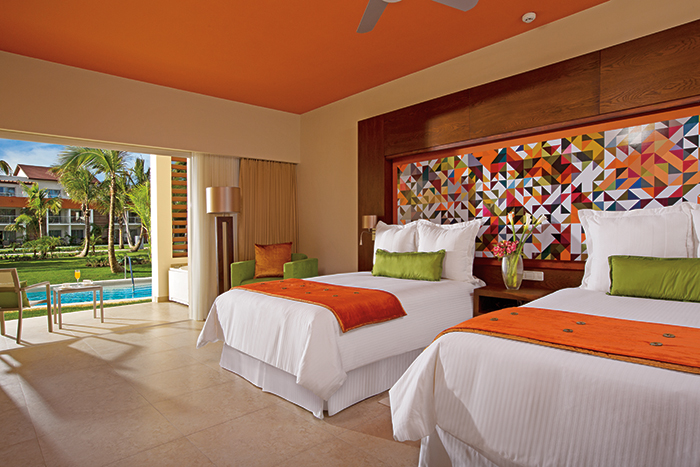 The Breathless Punta Cana Resort is a dream for anyone who values serenity and Caribbean aesthetics. This resort is only for adults and hosts some of the coolest parties on its property. The lively Black Light Pool Party and the classic Gatsby Party are two of our favorites.
You can find the fabulous Allure Junior Suite Swim-up at the Breathless Punta Cana Resort. This suite has a fully furnished balcony or a terrace with a hot tub and direct pool access.
The spa at this destination will make you feel like you've been reborn, so don't miss it. There are hot stone massages, hydrotherapy, deluxe facials, and all the other spa services you could ask for.
Swim Up Rooms at Majestic Colonial Punta Cana Resort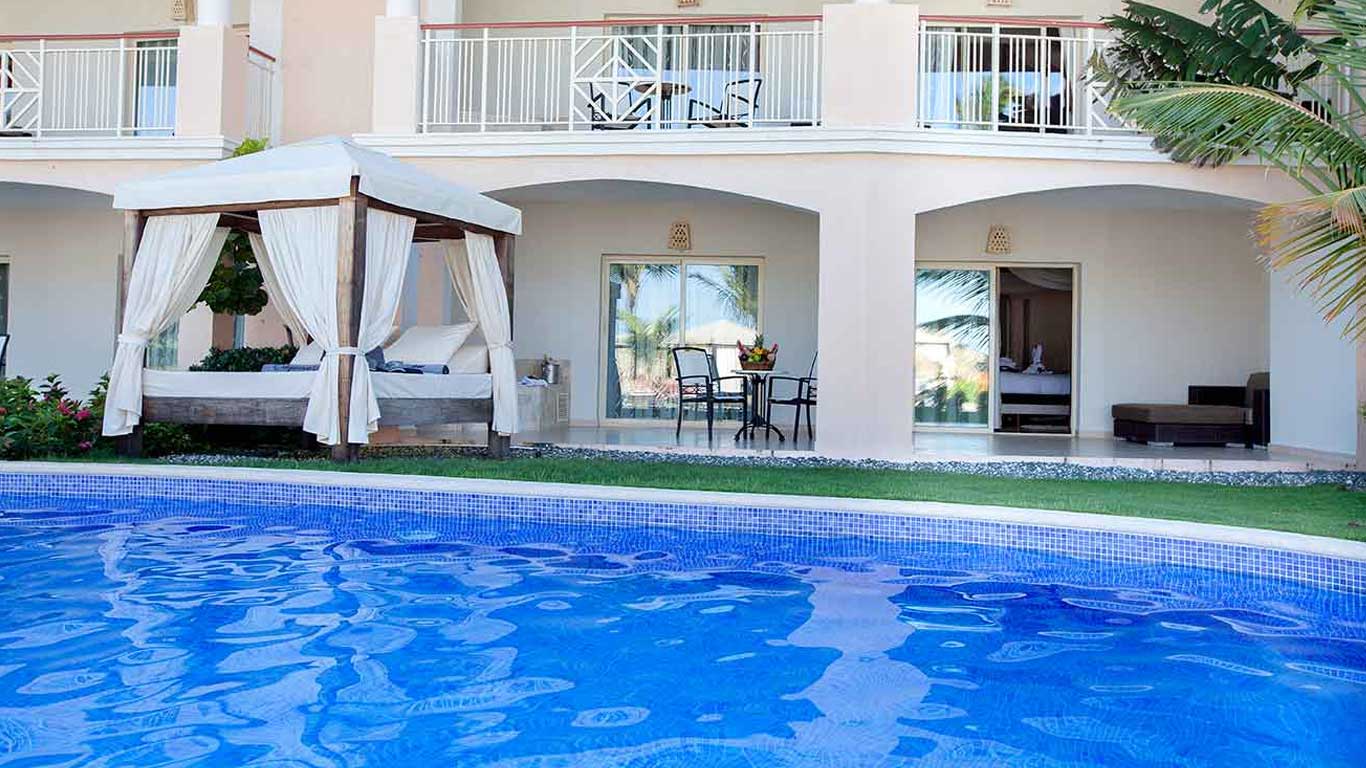 Who doesn't like staying at an all-inclusive resort? Aside from being a delightful place to stay, the Majestic Colonial's all-inclusive policy is quite generous.
A free minibar with beer, snacks, soda, and water is restocked daily for you. You'll also be able to enjoy their complimentary house wine at the bars and with meals. That's just the tip of the iceberg regarding what you'll have free access to on this property.
This resort's accommodation is split into sections designated for families and others for adults only. Majestic Junior is a swim-up suite available in both sections. This suite is unique in that it has not one but two jacuzzis, one indoor and one outdoor!
Swim Up Rooms at Dreams Onyx Resort & Spa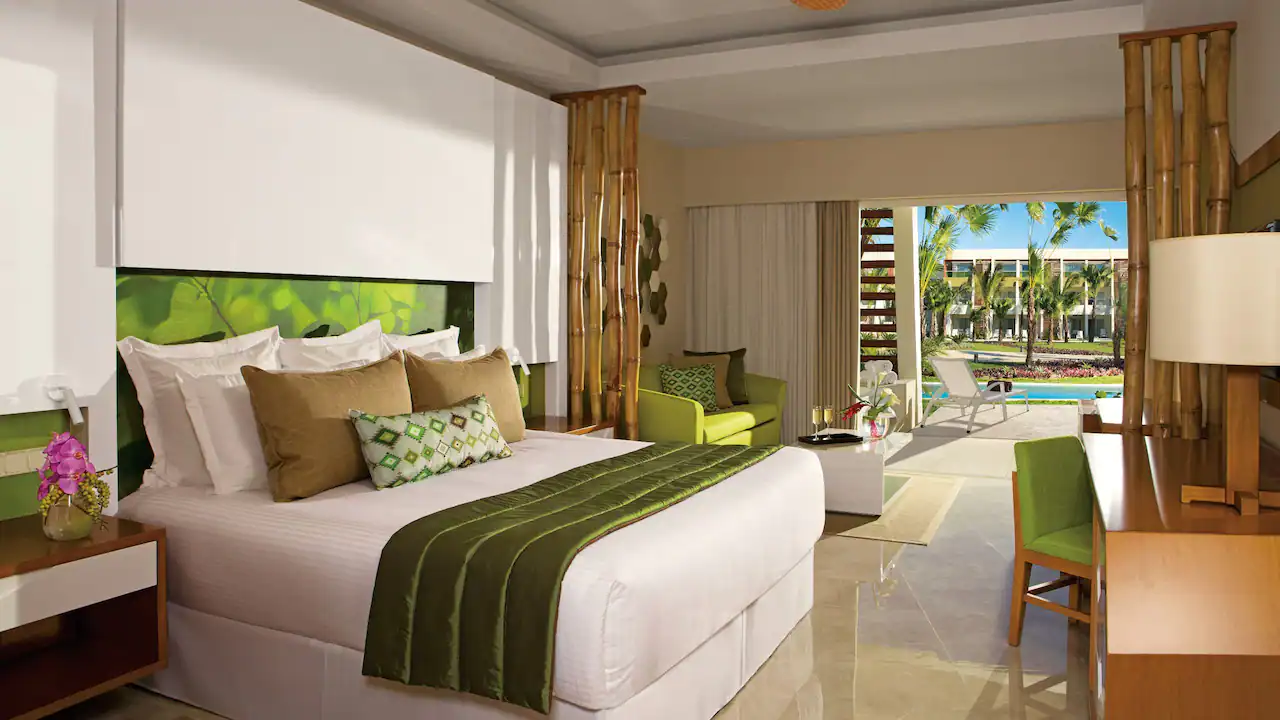 The Dreams Onyx Resort has four different swim-up suites, making it an excellent choice for small or large groups. All suites have a modern interior design and multiple amenities.
The resort has a kids club to keep the little ones occupied. It also has a fantastic spa and fitness center, as well as outdoor tennis courts for adults to enjoy during the day.
The Dreams Onyx Resort offers a beautiful private dining option that you can use to surprise your partner.
Swim Up Rooms at Ocean El Faro Resort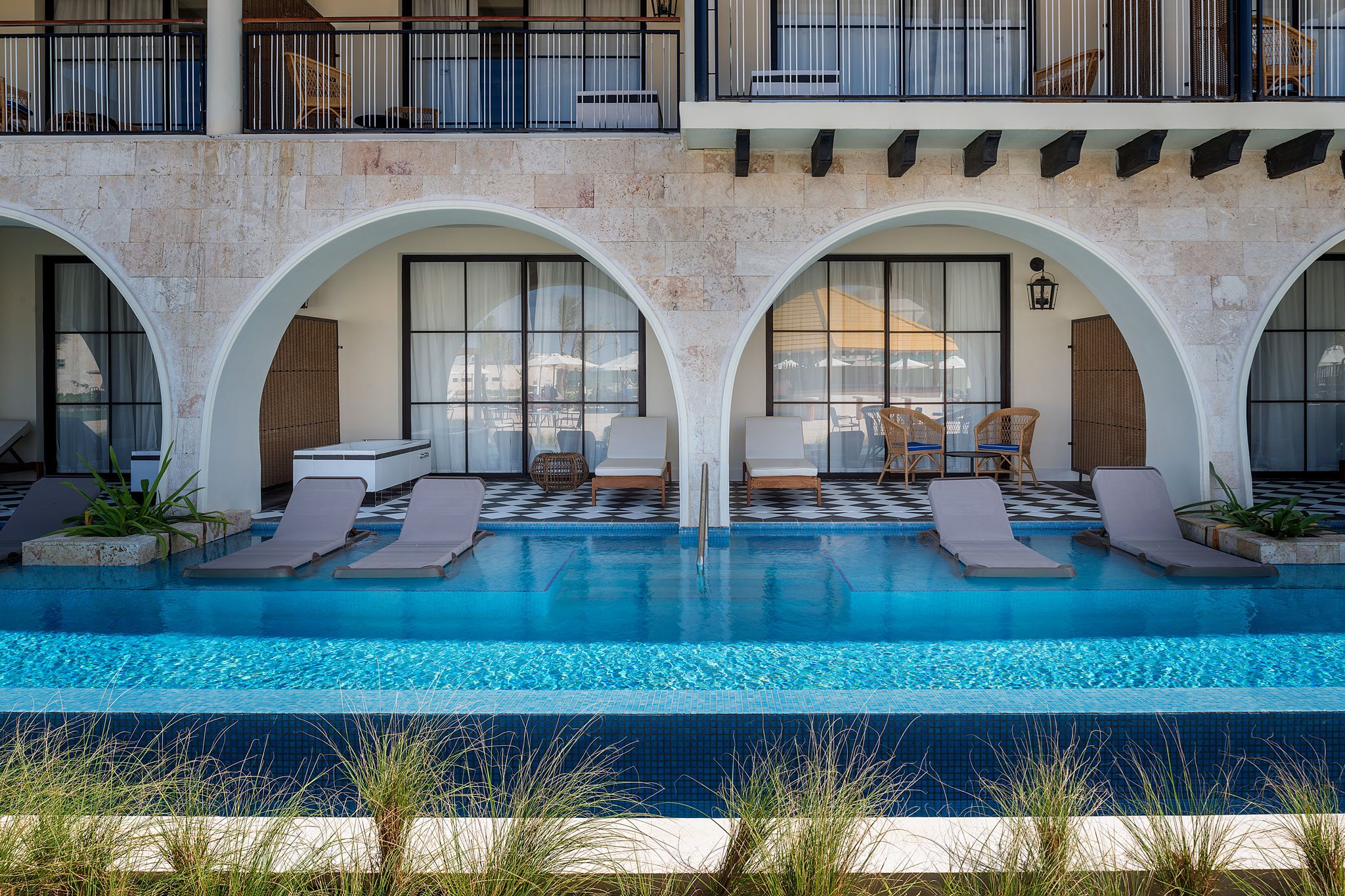 If you like minimalistic design and decor, you'll love Ocean El Faro Resort. Its swim-up Junior Suites are visually and physically soothing. In addition, they're extremely spacious, with one suite sleeping up to three people and the other sleeping four.
This resort has plenty of activities to keep you busy during your stay. You could, for example, go to one of their classical theater performances. Alternatively, you can have a fun night at their dazzling disco. That said, our favorite spot is their adorable ice cream shop!
Swim Up Rooms at Hyatt Zilara Cap Cana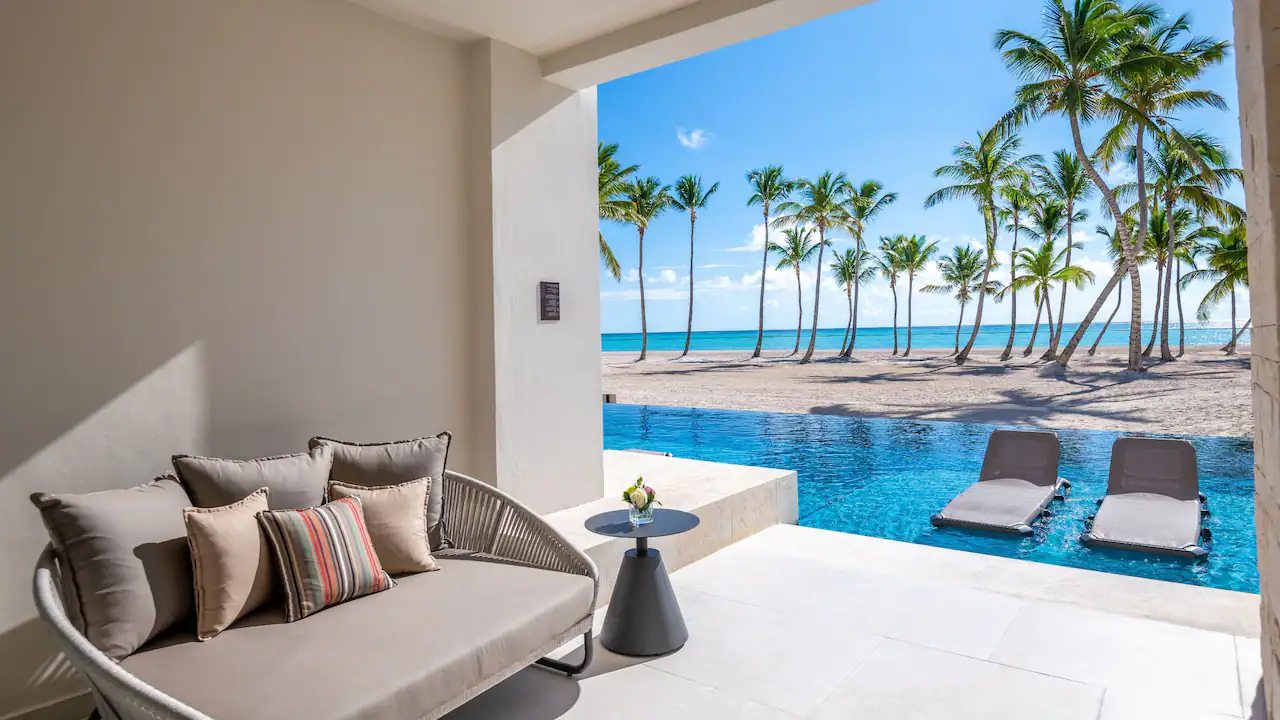 Like all Hyatt hotels, the Hyatt Zilara Cap Cana is a haven of relaxation and bliss. This magical location is an adults-only all-inclusive resort. However, we must admit that it has some of the most scenic ocean views.
We like how there are a variety of activities available; they're not just for couples. For example, the waterpark at this Hyatt resort features water cannons and seven slides. It also has exciting water activities like Aqua-Cycling. Besides, you must take a dip in one of the infinity pools!
There are seven lodging options as swim-up suites on the property, so there are plenty of options to choose from. You'll fall in love with the contemporary design that runs throughout their suites.
One of the resort's highlights is its daily and nightly entertainment. If you get bored, there are plenty of live shows hosted by musicians and dancers to keep you entertained. If you get hungry, there are 25 restaurants to satisfy your craving. It has everything you could want!
Experience the best of our culture and landmarks with our expert-led tours. Reserve now and pay later!
Swim Up Rooms at Iberostar Grand Bávaro Hotel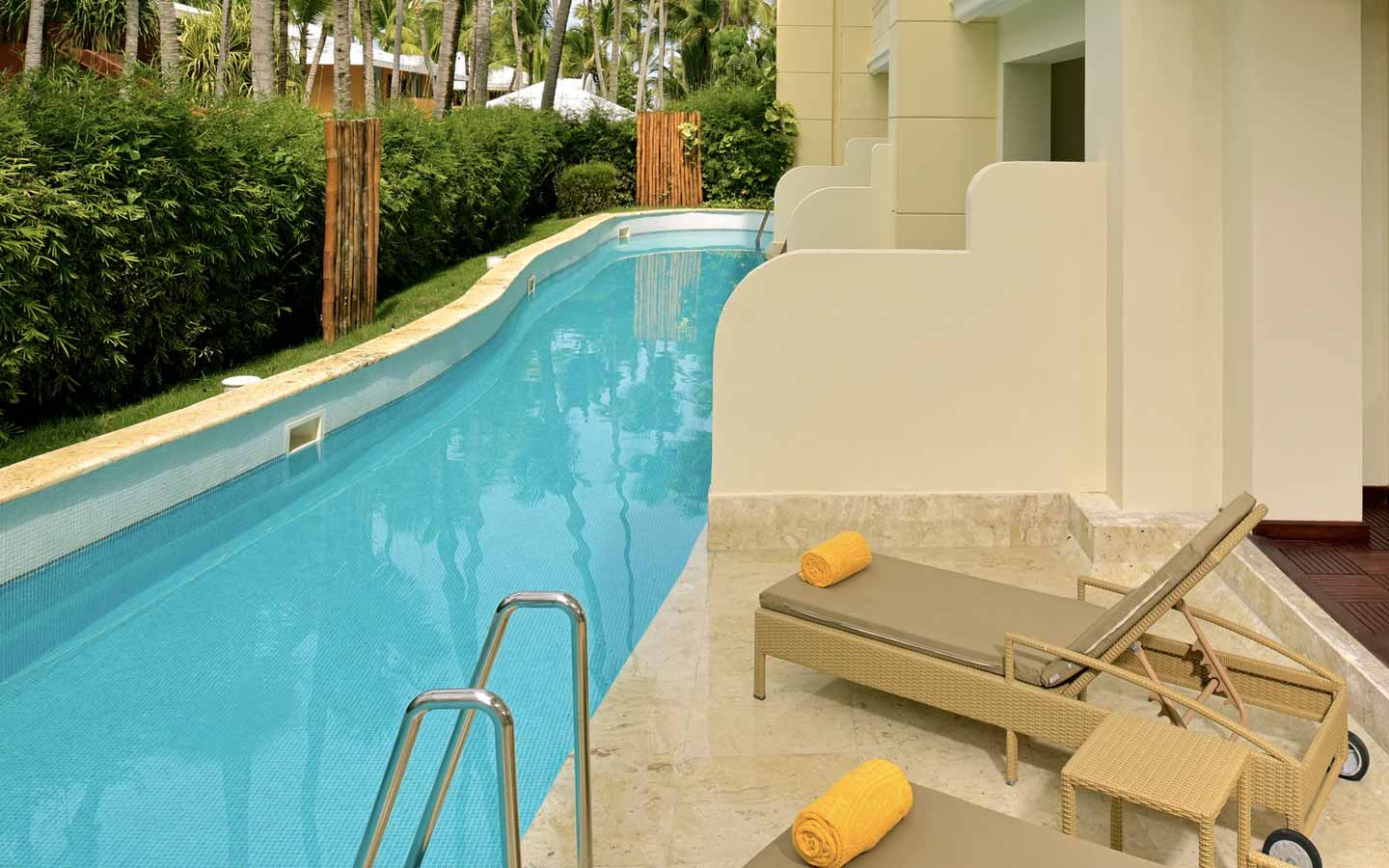 The adults-only Iberostar Grand Bávaro Hotel offers unrivaled tranquility. Maybe it's because of the endless lush gardens on the property and around the pools. Suite Swim-up is an attractive lodging option at this hotel with direct pool access.
For all of you golfers out there, you must play a round on their award-winning golf course designed by the incredible architect P.B. Dye. They also have the Aliveness program, which will reconnect you with nature for a more spiritual experience.
Wrapping Up
Our list of the top 10 Punta Cana swim-up rooms is now complete. The lodging option you select will rely on your budget, personal preferences, and whom you're traveling with.
Aside from that, we'd share some of this destination's signatures for you to take home as souvenirs: cigars, rum, cocoa, coffee, and natural oils.