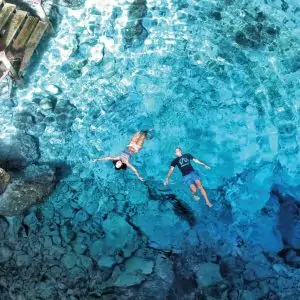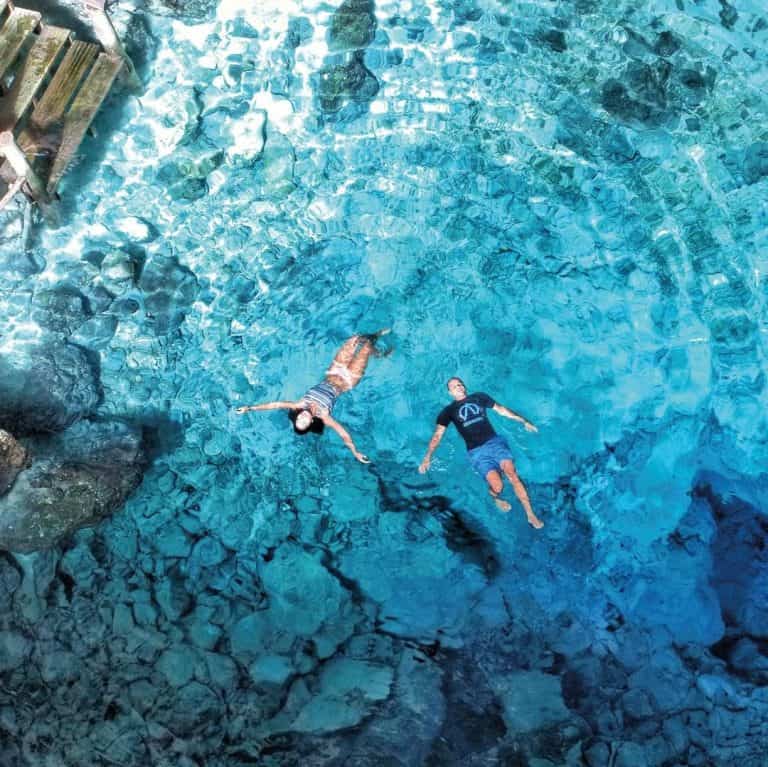 The name is wrapped in mystery to those who have never heard of or seen it before. What is a "blue hole"? Why is it a must-see attraction in the jungle paradise that is Punta Cana?
We answer all these questions and more in this guide to everything you need to know about the Hoyo Azul Punta Cana tours.
Get the Scape Park Full Admission pass and visit Hoyo Azul!
What Is Hoyo Azul (The Blue Hole)?
We begin by answering the basic question: what is the Blue Hole? It's not a hole in the clear blue Punta Cana skies. Rather, it's a sinkhole in the earth. The technical name for it is a cenote.
A cenote is by definition a natural sinkhole with water at the bottom. It is most often found in low-lying coastal regions like Punta Cana. It's rare enough that to see one is a treat that most people will never experience. That's why you should always add Hoyo Azul to your vacation itinerary.
Why is this cenote called a "blue" hole? It's so-called because the water is blue. It gets its hue from the sunlight that refracts through it. The process of light refraction is completely natural, yet the effect it creates is ethereal and otherworldly. When you swim here, you feel like you're in another, more magical dimension of reality.
Get the Scape Park Full Admission pass and visit Hoyo Azul!
How Do I Get To Hoyo Azul?
To get to Hoyo Azul Punta Cana, you must enter Scape Park, which is one of Punta Cana's eco theme parks. With the park's experienced employees as your guides, you will trek through the jungle to the base of a cliff where the Blue Hole is located. Next, you'll enter a cave and descend several flights of sturdy wooden staircases, all the way down to the bottom of the cenote. Here, you can don your bathing suit and immerse yourself in Hoyo Azul's cool blue waters.
If you're wanting to visit Hoyo Azul at Scape Park, you can book it here.
Book your Excursions & Tours in advance. We provide roundtrip transportation from all hotels in Punta Cana.
No Payment Required - Schedule your activities today using our pay later option!
What Should I Bring To The Blue Hole?
Before you start your journey to Hoyo Azul, the Blue Hole there are a few essential items you need to gather up to take with you. Remember, you must walk through jungle terrain to reach the cave, and then you have to walk downstairs before you arrive at your ultimate destination.
Make sure you wear sturdy shoes that are comfortable and supportive for long stretches of walking. Bring a bottle of water with you, too, so you can stay hydrated during your trek. Finally, don't forget to bring your bathing suit!
Get the Scape Park Full Admission pass and visit Hoyo Azul!
How Do I Visit This Amazing Place?
To visit Hoyo Azul or the Blue Hole, you can purchase admission tickets to Scape Park. While you're booking, check out all the other amazing attractions at Scape Park, where the cenote is just one gem among many.
Get the Scape Park Full Admission pass and visit Hoyo Azul!
Who are we?
We're Punta Cana Adventures, a purpose-driven company that will help you arrange all of your Punta Cana activities before you arrive. Just Like Hoyo Azul At Scape Park, we have many more activities available. See all of our activities.